Please Note: SpinupWP was a Delicious Brains product until Delicious Brains was sold to WP Engine in June 2022 and SpinupWP became independent as it is today. This is a year in review of the entire Delicious Brains business including SpinupWP.
TL;DR — Despite the pandemic, we had a great year as a team and as a business. We tripled the size of the team, acquired ACF, shipped and published a ton of awesome stuff that we're proud of, and had a nice bump in revenue.
This is my seventh year in review post since I started writing them: 2014, 2015, 2016, 2017, 2018, 2019, 2020.
No Retreat
(Again)

Like 2020, COVID-19 featured prominently in everyone's lives again in 2021, including our team members. And just like 2020, we feel we were very fortunate in 2021. Everyone is healthy and our business wasn't negatively impacted.

All we had to complain about is that we couldn't all easily get on a plane and meet up somewhere awesome. Still a bummer, but not a big deal in the grand scheme of things.

Vaccination efforts were a triumph in 2021, and it felt like smooth sailing ahead until the storm that is the Omicron variant showed up just a few weeks ago. Now it feels like we've taken a giant leap backward. Nevertheless, we are still booked for WordCamp Europe in June, so here's hoping things improve.

It's been more than 2.5 years since seven of our team members have been together in person. That leaves seventeen of us that have never met in person at all!
Team++
Wow, have we grown! Check out what we looked like just 18 months ago…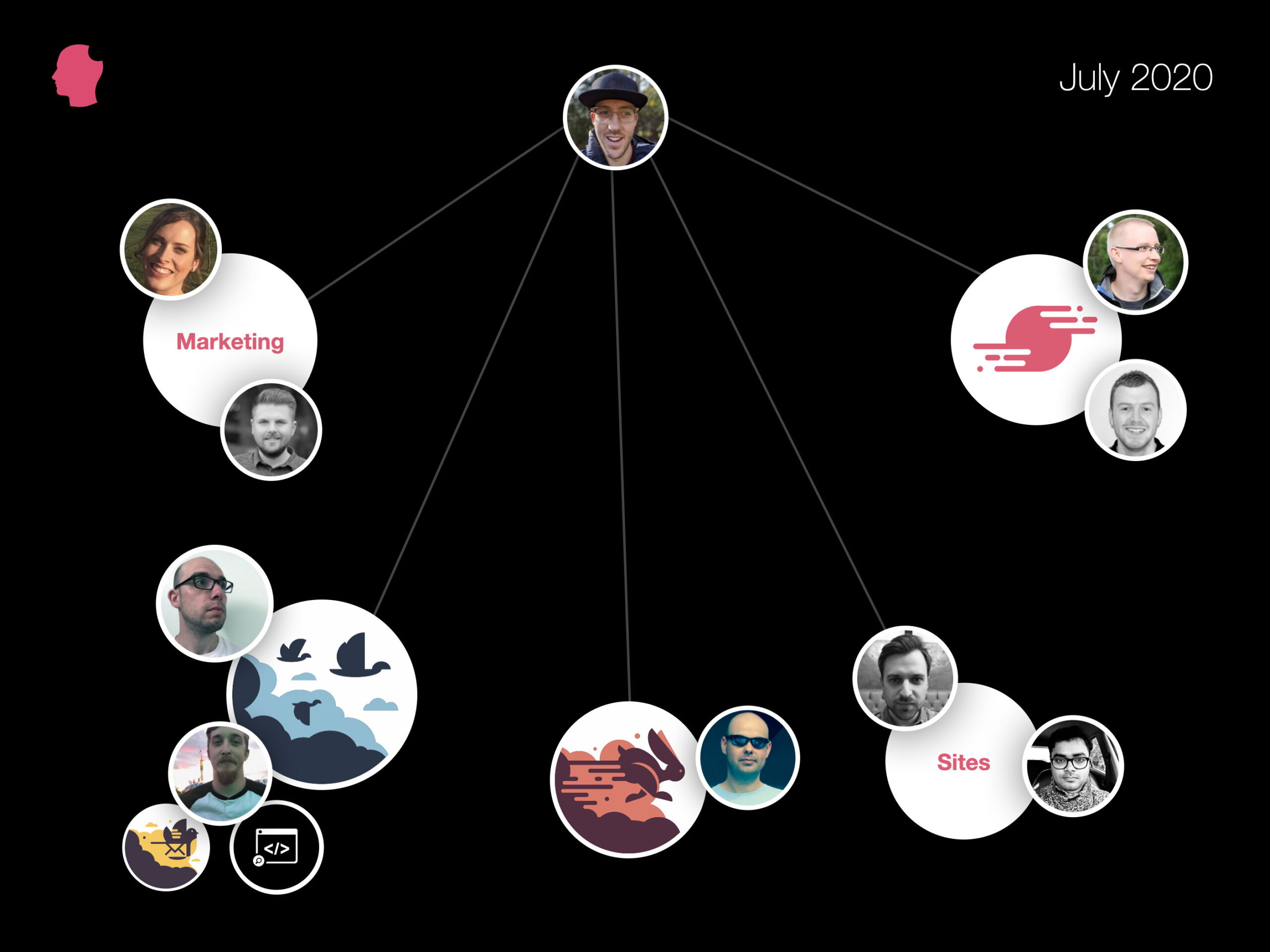 I was managing all the teams and our developers were doing all the customer support.
Now look at us…
If you're counting heads, that's 24 people, but there are an additional 10 dedicated customer support staff behind the LevelUp, Influx, and Bobcares banners. We've gone from 10 to 34 people in 18 months, crazy!
I'm no longer managing everything. Iain and Ash have taken on leadership positions and we made our first manager hire, welcoming Kevin Hoffman to the team as a product manager.
Our dedicated customer support teams from LevelUp, Influx, and Bobcares are answering tier 1 & 2 customer support questions faster than ever before. This allows our developers to answer tier 3 questions faster and gives them more time to focus on writing code and making our products better.
Design was becoming a bottleneck, with Lewis stretched thin across all the products and sites. We're super excited to have just welcomed a second talented designer, Dale, to the team before the holidays.
I'll discuss more of the new faces later, but for now I'll just say that I'm stoked to have this team going into 2022. We have the team we need to get us through the first half of 2022 at least.
Advanced Custom Fields
Acquired

Before I say anything at all about Advanced Custom Fields (ACF), I must first reiterate that we are firmly committed to honouring lifetime licenses as per my tweet from June.

On June 1st, 2021, we acquired Advanced Custom Fields (ACF). It was a massive deal for us that took months of work. Now, after seven months of having ACF under our stewardship, I can say that it was definitely worth it. We're very excited about the opportunities to make ACF even better and continue its growth.

We've faced some challenges, mostly in communicating with lifetime license customers, but I think we have our heads around that now. Matt and Liam, with some help from Iain, have been doing an excellent job shipping fixes, improvements, and new features, including complete integration with the WP REST API and major improvements to ACF Blocks.

We're also in the process of migrating advancedcustomfields.com to the same codebase as deliciousbrains.com so it will inherit all the goodies we've added to our site over the years, like full Composer support for our plugins. The ACF site is also long overdue for a redesign, so we'll be starting on that soon too.

Over the last seven months, a better idea of where we'd like to take ACF has been forming. As plans crystallize with each subsequent release, we'll be discussing the future in the "What's Next?" section of each release post. Be sure to subscribe to our ACF email list so you don't miss a major release announcement.
WP Migrate DB Pro
Reborn

After over two years of development, we shipped WP Migrate DB Pro 2.0 in April. The release featured a slick new UI powered by React, an all-new Media Files addon, and lots more.

We launched a stunning, completely new site for WP Migrate DB Pro alongside 2.0. Iain and Jonathan did an awesome job writing new copy. Lewis came up with an elegant and engaging design and then brought it to life with HTML and CSS and embedded video. And Ram did a great job integrating it into our site.

But all that isn't even the main reason I say that WP Migrate DB Pro has been reborn. It has a completely new team.

Ahmed joined Matt and Pete in January and helped get WP Migrate DB Pro 2.0 out the door. Pete moved on to another company in March. In June, Phil joined and ramped up as Matt transitioned over to ACF. In August, Kevin joined and took over product management from Iain, who was stretched thin, managing way too much.

There you have it, a completely new WP Migrate DB Pro team from a year ago. And boy, have they been doing some great work. They shipped two major releases (regular expressions and Find & Replace preview) in just the past five months and have impressive momentum going into 2022.

I absolutely love the new energy that Kevin, Ahmed, and Phil have brought to WP Migrate DB Pro and I'm excited about what they're planning to ship this year. Subscribe to the WP Migrate DB Pro email list to make sure you don't miss what they ship next.
SpinupWP is
Humming

We are pumped to be going into 2022 with a ramped up and roaring SpinupWP dev team of six developers and an exciting roadmap!

We started the year with Katelynn joining George and Ash, then welcomed Daniel, Ryan, and James in June/July. The addition of the new team members means we've been shipping like crazy, especially lately.

You can find the highlights in our "New in SpinupWP" roundup posts:
For what's coming next in the app, check out the Coming Soon section of the latest roundup post and be sure to subscribe to the SpinupWP email list so you don't miss the next one.
Under Ash's leadership, the developers have been doing great work together, with design support from Lewis. I can't wait to review the next thing that's ready to ship.
This year we also launched the SpinupWP Developer Community. This is a place where SpinupWP users can connect with each other, get ideas for ways to use the app, help each other with tricky server management issues, and suggest new features. It's been great to see our customers interacting with each other in this forum and more casually converse with them ourselves. I've jumped in with my two cents a few times.
Lewis, Ram, Sanjucta, and Ross have designed, coded, and shipped dozens of awesome improvements to the SpinupWP site over the past 12 months and there are more to come.
WP Offload Media Struggles But
Perseveres

It wouldn't be an interesting year in review if there weren't some bumps along the road. Unfortunately we didn't ship one major release of WP Offload Media in 2021.

One could argue that the Elementor integration could have been a major release, but the other three releases were definitely minor, mostly bug fixes.

So what happened?

Classic story really. In March, we set out to build something we thought was straightforward and it turned into a beast of a refactor. Our goal was an integration with BuddyBoss, but we gradually discovered we would need to give WP Offload Media the ability to offload media that is not added to the WordPress Media Library.

The good news is that Erik's refactor and BuddyBoss integration were merged just before the holidays and are now in testing! We should be shipping WP Offload Media 2.6 within the next couple of months.

More good news: Jonesy also made lots of progress on a slick, new UI powered by Svelte, which we're aiming to ship in the second quarter of this year. Lewis has outdone himself again with a beautiful but practical redesign of the UI as well as designs for the new site. Be sure to subscribe to the WP Offload Media email list to receive the details when it ships.

It's been a challenging year for the WP Offload Media team. It's always tough when a project grows in scope, deadlines get pushed week after week, and there are a lot of unknowns. But they managed to keep pushing the boulder up the hill. Their perseverance means they're now within sight of the finish line.

Going forward, Kevin will be putting a new process in place for the WP Offload Media team to better shape projects and ensure that we fully understand the scope before writing a line of code.

We are still planning to add an easy button to WP Offload Media, allowing customers to offload their media in 1-click, no AWS account required.
Other
Products

We shipped a couple of minor releases of WP Offload SES in 2021 to keep the plugin in good shape, but that was it. Our plans for new features were displaced by better opportunities. Plans for WP Offload SES include adding lightweight newsletter functionality, possibly this year, but more likely in 2023.

We're currently exploring a couple of new plugin ideas that we might dive into this year, but we haven't committed just yet.
Marketing
The marketing team went from a team of two (Caillie and I) to a team of six this year.
Jonathan joined in March as a technical writer. We are very lucky to have a technical writer who was a full-stack developer at their last job! Jonathan has been doing excellent work collaborating with the product teams to update our outdated documentation, writing new tutorials, updating existing tutorials, and working with Iain and I on marketing copy. 😅
Thomas joined in May as a video producer and started publishing incredible product videos as well as tutorial videos. We're starting to see some good traction for the YouTube videos on the Delicious Brains channel as well as the SpinupWP channel. Check out some of his videos:
Mike just joined at the end of September and has taken on the role of Senior Editor. Like a magazine editor, it will be his job to wrangle all our content while maintaining a high level of quality. I'm still the editor of our content at the moment, but Mike has been gradually taking this off my plate.
The end goal is to extricate myself from the content publishing process entirely. At the moment, I still review every word of every article and every bit of marketing copy that is published. It's still early days, but we've been making good progress.
Caillie did a terrific job in 2021 keeping our content calendar running smoothly, making sure we have something new to email about every week, facilitating communication between product teams and support, analyzing and reporting on our traffic, and a ton more stuff.
We saw a drop in traffic across all our sites in March and we figure an algorithm update was the cause. Otherwise traffic was the same or slightly less than the same period in 2020.
We definitely pulled back too much from publishing new articles in 2021 and we've corrected that already, enlisting our devs as authors again. Ram, Sanjucta, and Ross have been doing a great job improving our mobile PageSpeed score, so we hope continued improvements there will help with organic search traffic as well.
Revenue
Time for the annual update of our revenue chart with no numbers and no ACF 😉…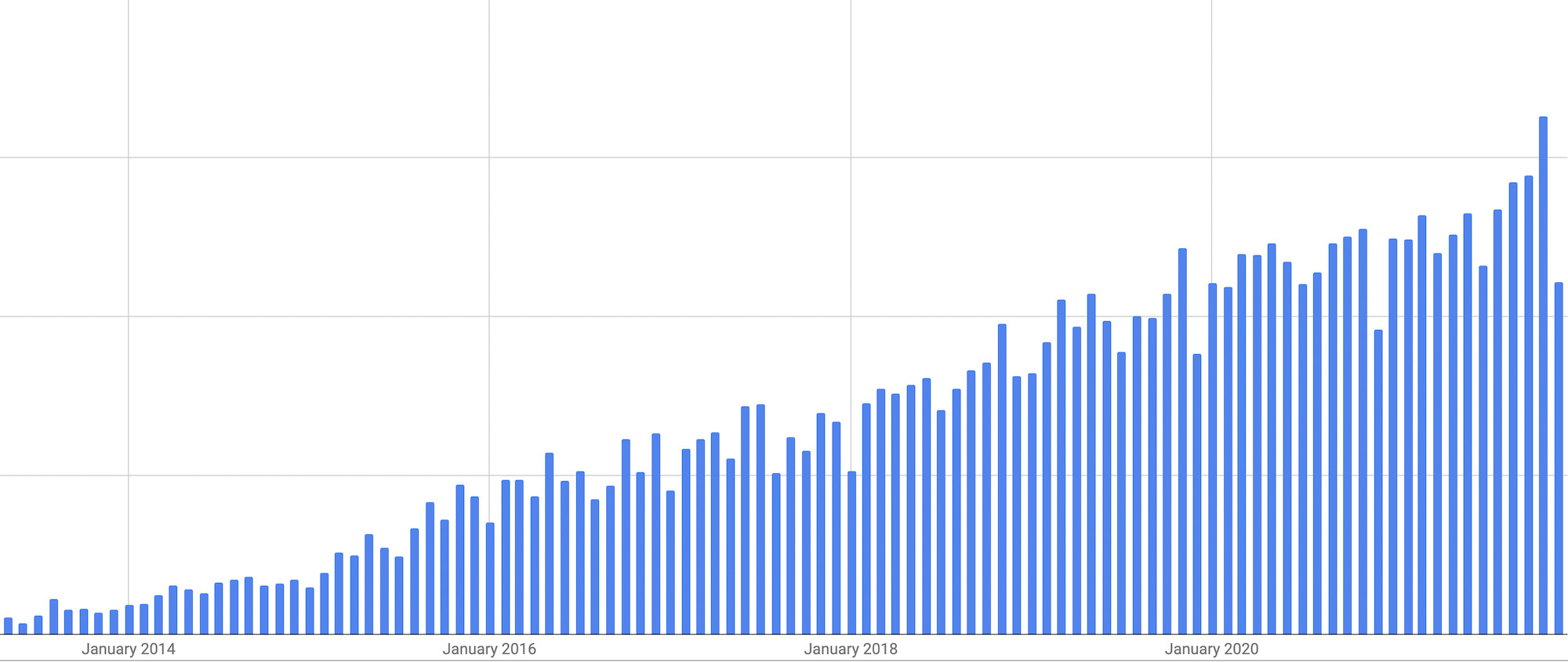 We experienced healthy growth again this year with total revenue up 13% over last year. This is a drop from last year's growth rate, but I'm still very happy with it.
It is interesting to see how ACF's revenue trend compares…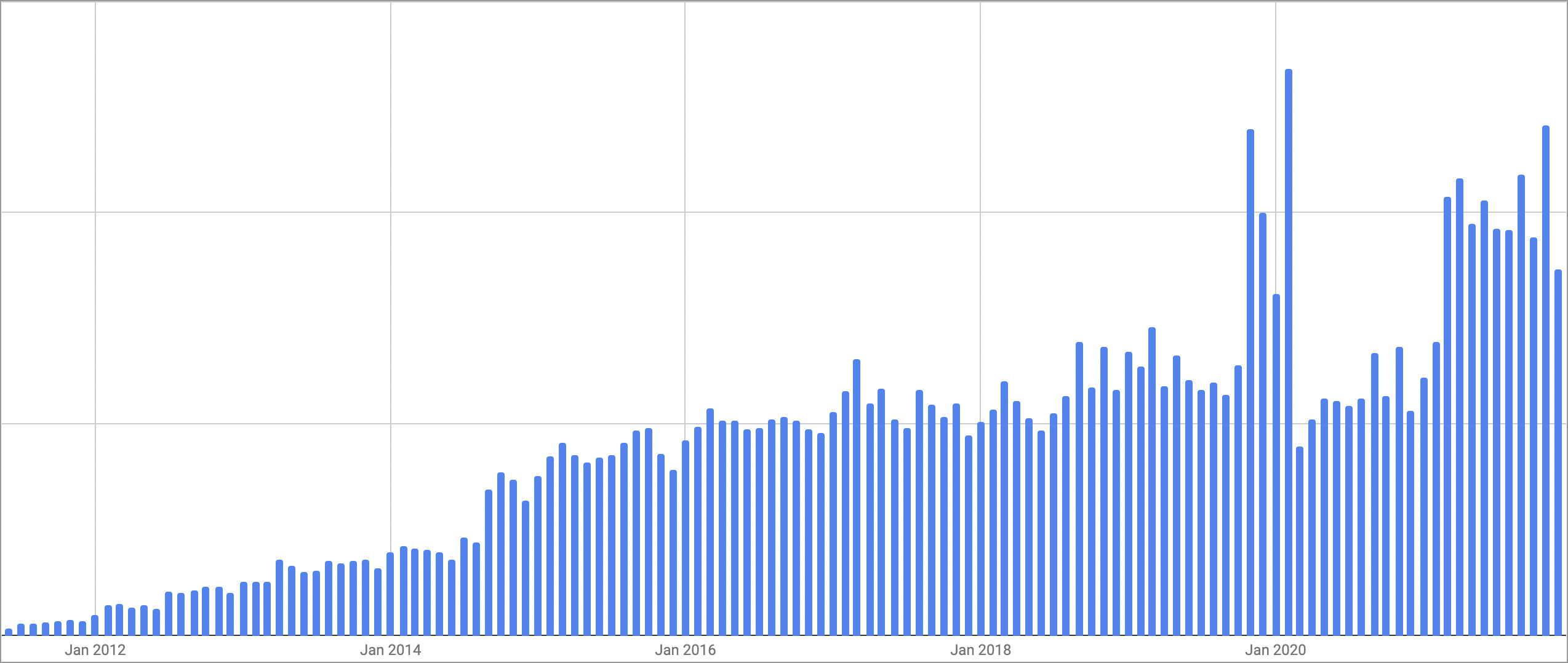 The difference between a one-time sale and recurring revenue is on display here. The situation is looking much healthier in 2021, with revenue up 47% over 2020.
Thanks
I'd like to thank my whole team for all the good things they've done in the past year that I haven't thanked them for. From updates to our Notion docs, to reminders in Slack, to all the lines of code that I never saw.
I especially want to thank those who brought things to my attention that were difficult to address. I'm grateful to have a team that isn't afraid to speak up when something is bothering them so that we can constantly improve.
I'd also like to thank my mom for keeping our books and running payroll. I'm grateful to have someone I trust unconditionally with access to my bank account.
And thanks again to my fellow entrepreneurs for helping me work through the typical struggles of a solo founder and those unique to me.
Finally, thanks to our customers. Without you none of this would be possible. I feel very fortunate that you love the products we build, appreciate the quality, and are willing to reward us with your hard-earned dollars. We're aiming to greatly improve our current products you know and love, as well as build new ones that we hope you'll love too.
I'm incredibly happy with our team and the work we did together this past year. I feel as though 2021 has been a solid year for the business and that we have a firm footing to take our next step up as a company in 2022.
What would you like to see from us in 2022? Let us know in the comments below.