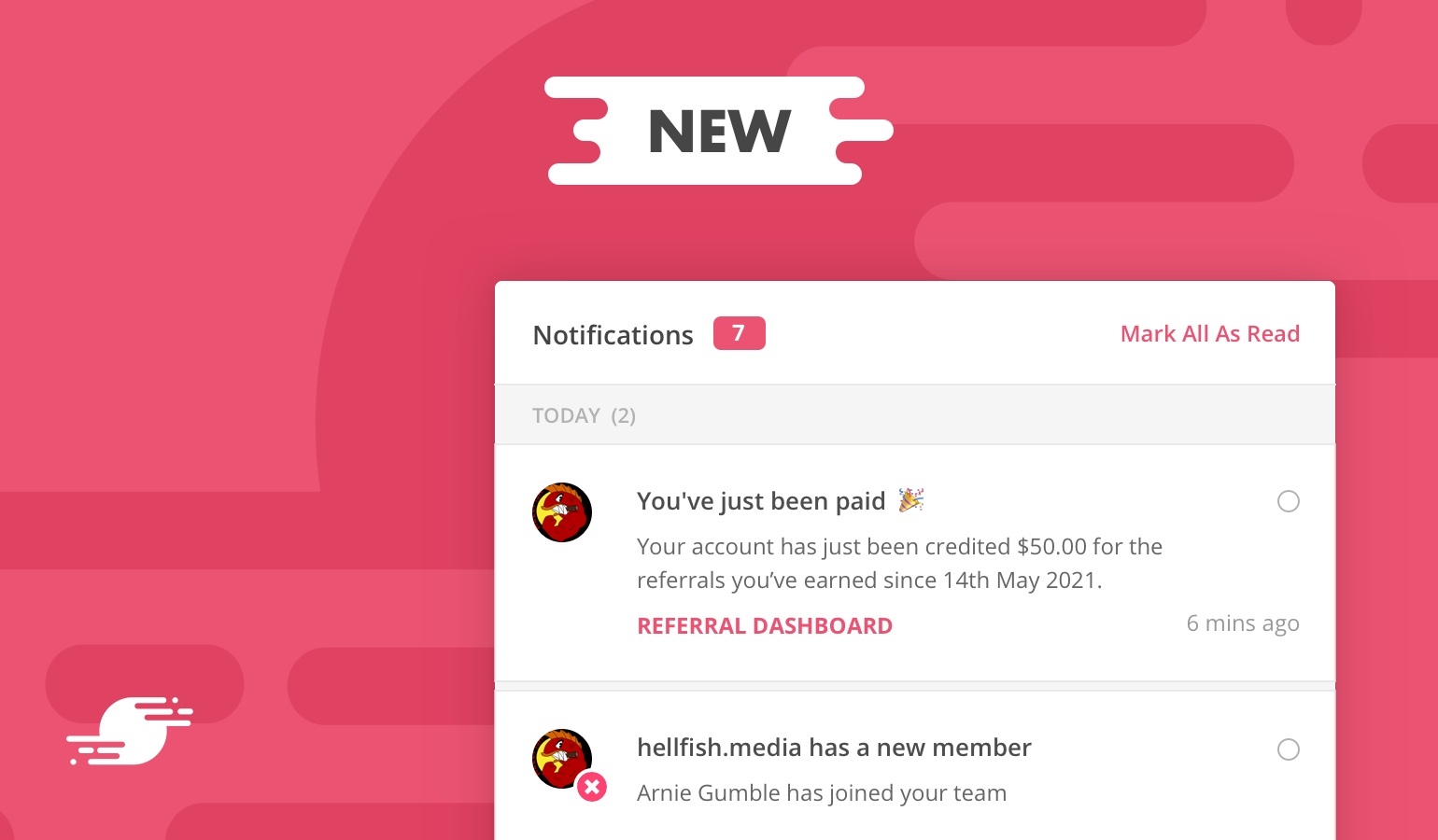 New in SpinupWP: In-App Notifications, Custom HTTPS Certificates, DNS Verification Improvements, PHP 8, and WP-CLI
2.5
We've shipped some awesome features and improvements for SpinupWP over the past couple of months. Let's take a look.
In-App
Notifications

When you log into your dashboard, you'll now see a new bell icon next to your account avatar, which includes an icon with the number of unread notifications.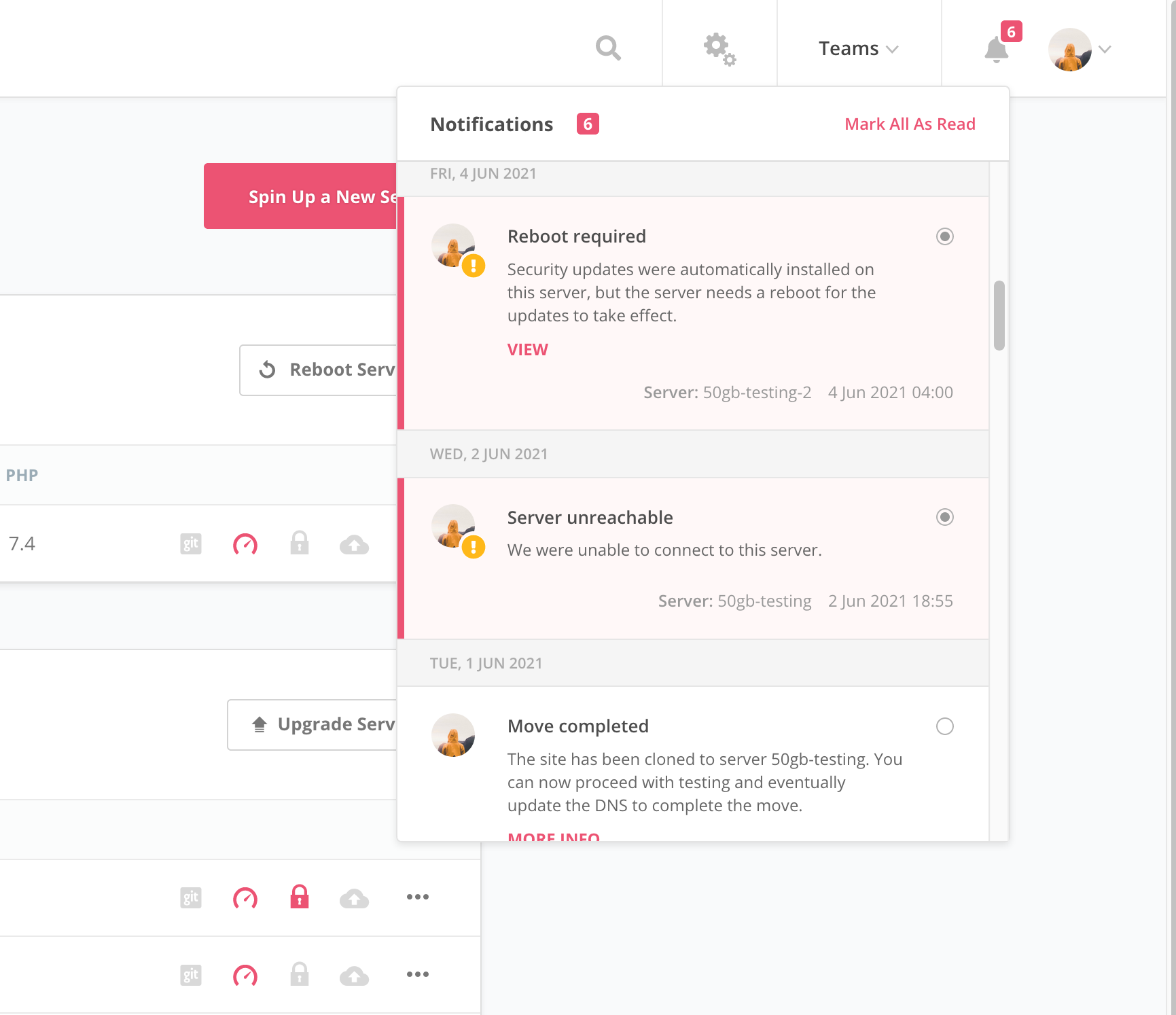 Clicking on the bell will open the notifications list, which will present you with the list of your current notifications. You can view the details of the notification, mark it as read or unread if you need to come back to it later, or mark all notifications as read. The notifications list will currently include the last 100 notifications, both read and unread.
We've also added a new Notifications settings screen, which you can access by visiting Your Account in the account drop-down then clicking the Notifications link on the left. Here you can control which notifications you subscribe to and whether to dispatch them via email, show them in the SpinupWP dashboard, or both.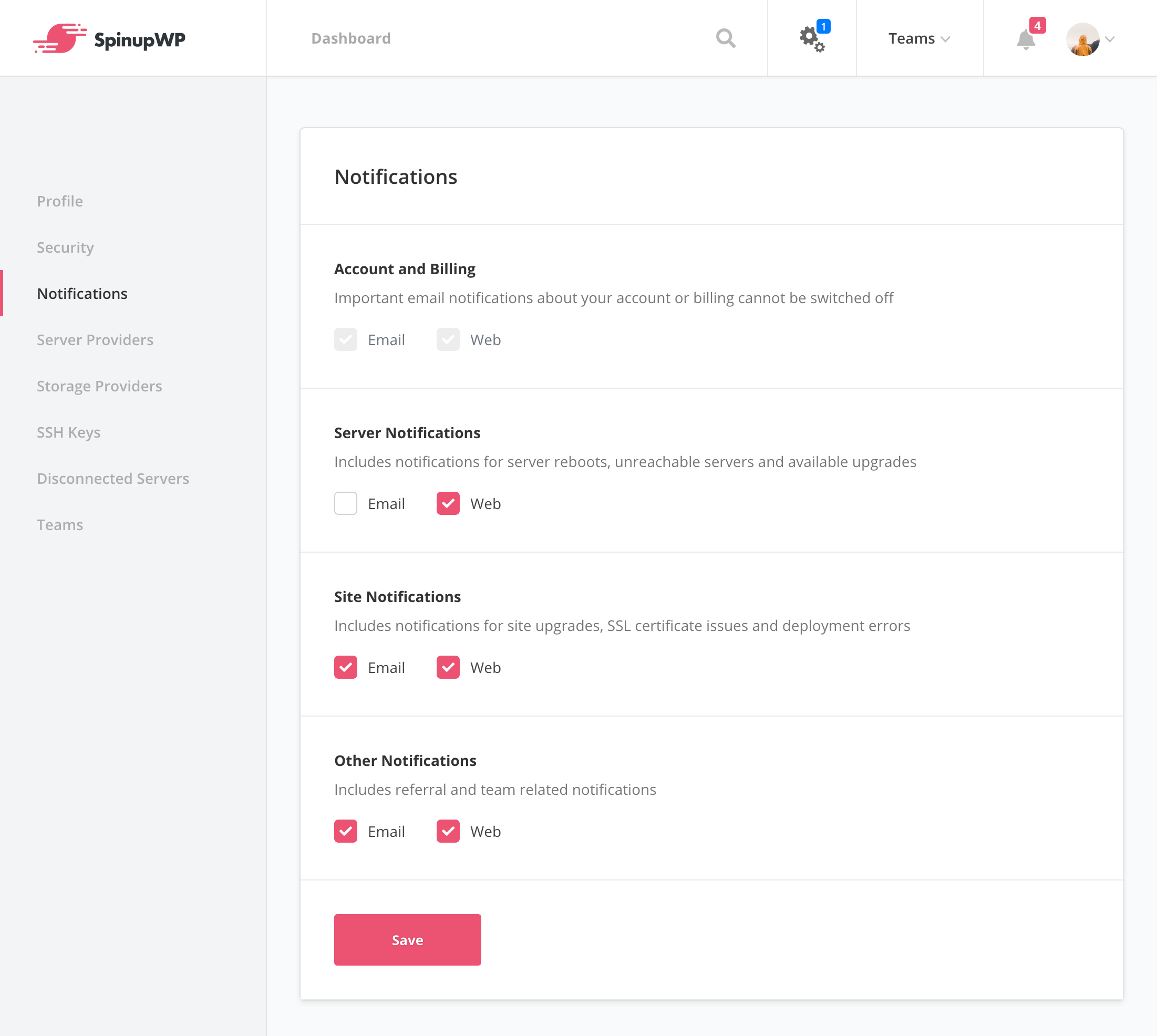 If you find you get too many emails from SpinupWP, tweaking these settings should allow you to cut back on email notifications.
Custom HTTPS
Certificates

Towards the end of May, we launched support for custom HTTPS certificates. Before, you were only able to use free Let's Encrypt certificates for your sites. If you needed to use a custom SSL certificate, you'd have to SSH into your server and configure everything manually.

Now, once you upload the certificate files to your server via SCP/SFTP, you can browse to the site's HTTPS panel in SpinupWP, enable custom HTTPS, and enter the paths of the SSL certificate files on the server.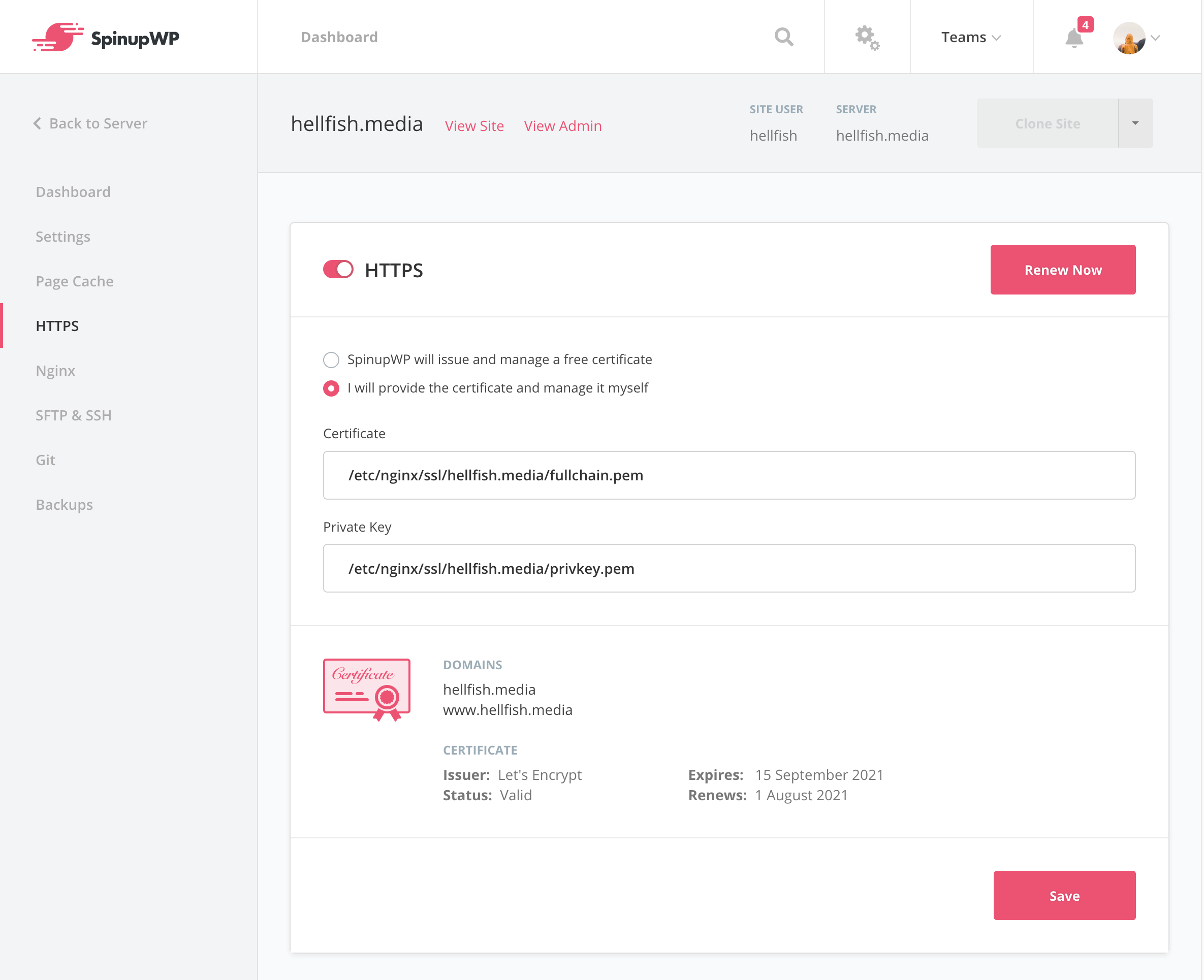 We also created a handy help doc with details on how to upload the certificate files to your server.
DNS Verification
Improvements

While we're on the subject of HTTPS, we deployed a new system for verifying that your DNS points to your SpinupWP servers when adding HTTPS-enabled sites. This new system improves the reliability of DNS verification.

We've also made error messages more useful when we detect that Cloudflare is in use: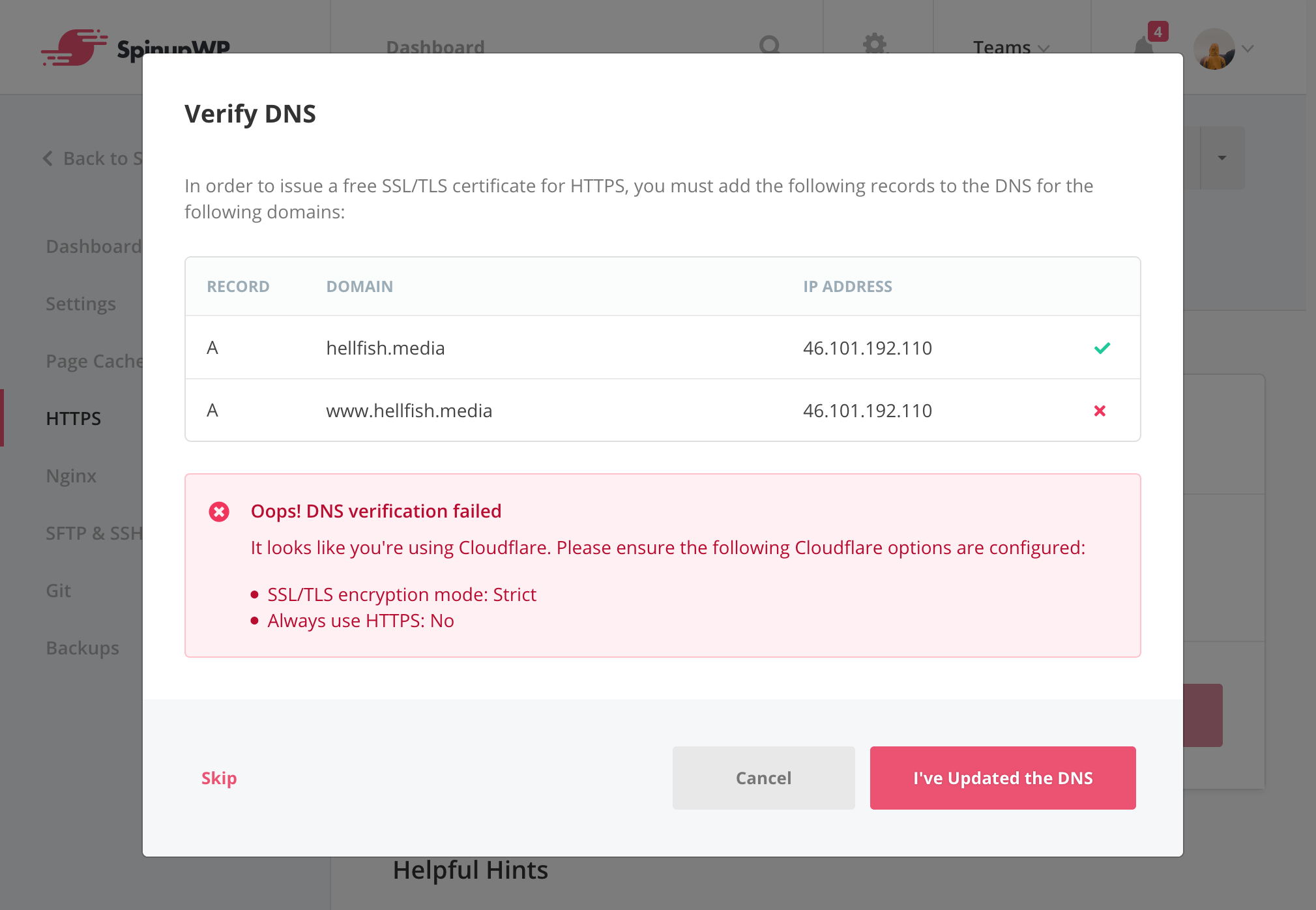 PHP 8 & WP-CLI
2.5

On the server software side, we made PHP 8.0 available for all sites. The available PHP versions are now limited to 7.3, 7.4, and 8.0, which is in line with PHP versions currently supported for future security updates.

As soon as the long-awaited 2.5.0 release of WP-CLI was shipped, we added a one-click upgrade to your SpinupWP dashboard so you can easily update WP-CLI on each server. You may want to execute this upgrade if you haven't already.

We also made it possible for WP-CLI to use the site's selected PHP version instead of using the latest version of PHP installed on the server. This will help prevent future compatibility issues if new PHP versions are released and WP-CLI releases lag slightly behind.
What's
Next?

We're always working on something new, so keep an eye out for more updates coming to your SpinupWP dashboard soon…
Version 1 of our REST API, which will allow you to create sites programmatically.
Subscribe and unsubscribe to notifications for specific servers and sites.
Adding Backblaze as a storage engine for backups.
Are you excited about these recent updates? Is there a super feature you'd like to see added to SpinupWP? Let us know in the comments below.