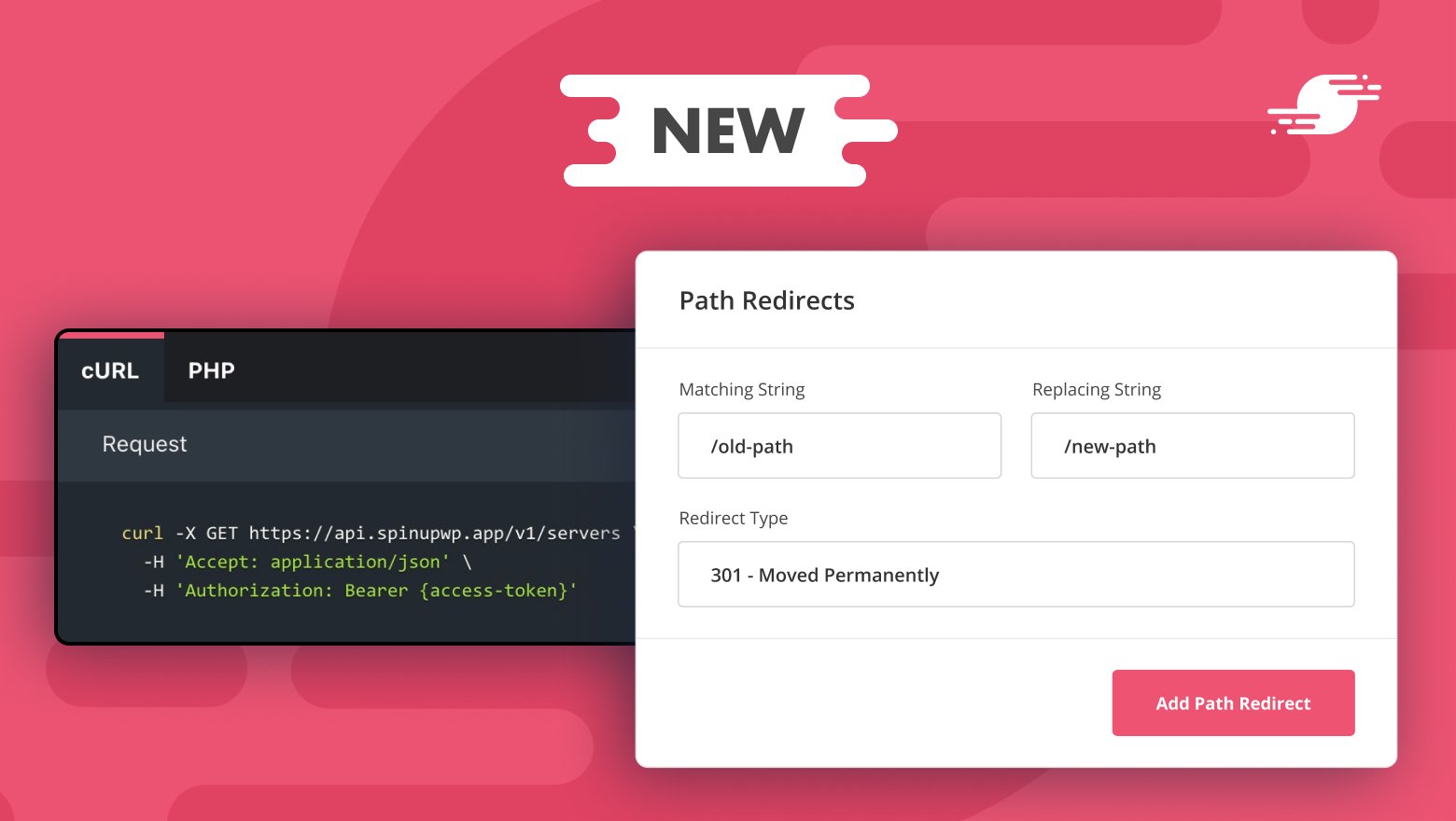 New in SpinupWP: REST API, Path Redirects, and
More!
It's a toss-up whether our biggest news is the launch of the SpinupWP REST API or the sneak peek of the SpinupWP CLI tool, but we've made a host of other improvements as well. Let's take a look at the changes…
REST API
Launched

The SpinupWP REST API is here! You no longer have to access the SpinupWP Dashboard to manage your sites.

The API is currently in Beta, so we're adding new capabilities all the time. We highly recommend subscribing to the REST API Beta email list to be notified at least a day in advance of any updates.

We've released a very limited set of endpoints to start so we can gather input from REST API users:
Site
Controls
Create a new site, including all site deployment options available in the app
List all sites, with an option to filter by server
Retrieve the details of a single site
Permanently delete a site
Purge page cache
Purge object cache
Trigger a Git deployment
Fix file permissions
Server
Controls
List all servers
Retrieve details of a specific server
Permanently delete a server
Reboot server
Restart Nginx
Restart PHP-FPM
Restart MySQL
Event
Controls
List all events
Retrieve a single event
We're also working on a PHP SDK, which uses the REST API and makes it easier to build PHP scripts and apps to manage SpinupWP resources.
You can get started with the REST API by reading the SpinupWP REST API documentation and creating your first API token. You can create API tokens for personal use, or for your team.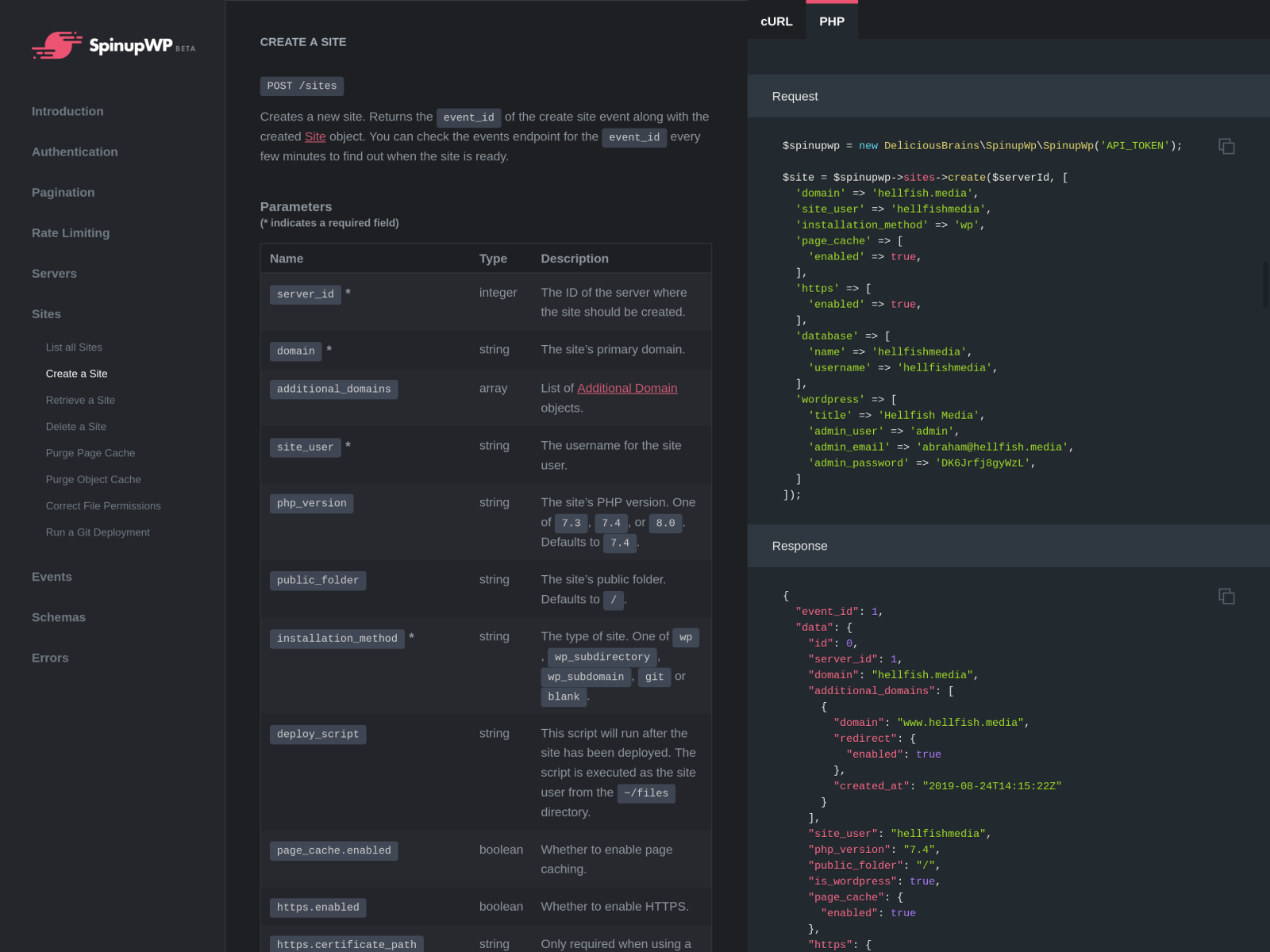 More endpoints are currently in development. See below for a partial list.
Endpoints in
Development
Update a site
Create a new server
Update a server
SpinupWP customers can share feedback and suggestions through the SpinupWP developer community or let us know in the comments below.
Path
Redirects

The ability to create path redirects is the latest improvement to SpinupWP. Path redirects let you redirect from a specific URL path to a different path. This is typically a path on the same domain, but it's easily possible to redirect the user to a URL on a different domain.

This new functionality means it's now ludicrously simple to create redirects and link old pages to updated versions.
Support for DigitalOcean
OAuth

We've recently added support for DigitalOcean OAuth, making it easier than ever to connect SpinupWP to your DigitalOcean account. It also makes the connection process more secure.

You no longer need to visit the DigitalOcean dashboard, generate a personal access token, copy it, and paste it in SpinupWP. The OAuth flow takes you from SpinupWP to DigitalOcean, asks you to authorize SpinupWP to use your DigitalOcean account, and then takes you back to SpinupWP. Much smoother and no messing with tokens.

To authorize SpinupWP with your DigitalOcean account, you only need to provision a new DigitalOcean server, and SpinupWP will handle the rest. Click Authorize on DigitalOcean during the server provisioning process, and you'll be redirected to DigitalOcean, to authorize your account. It's that easy!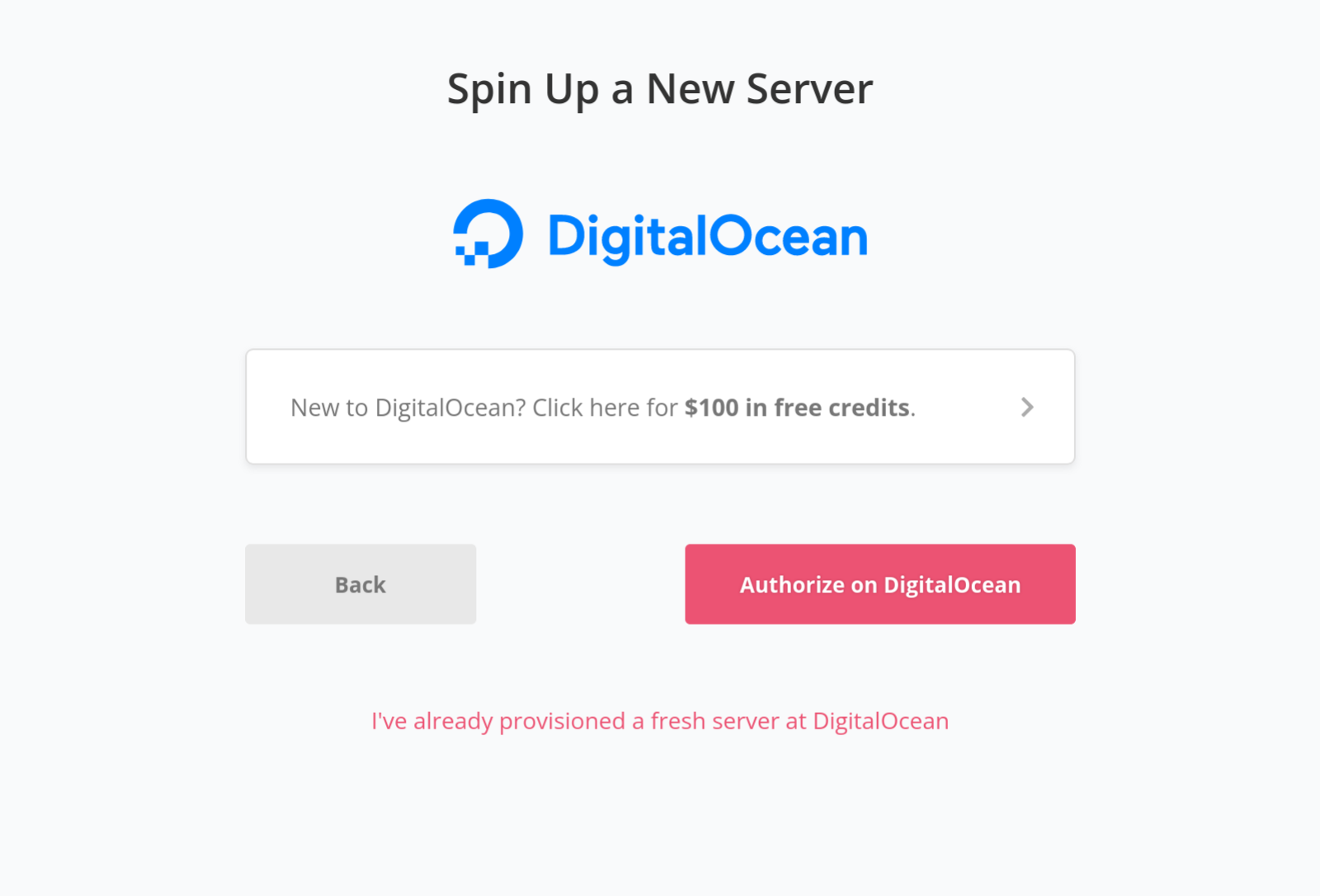 If you've previously set up DigitalOcean as a server provider using the API Token method, you can visit the "Server Providers" screen in SpinupWP, and upgrade the existing token to use OAuth.
Improved Backup Times on Multi-Core
Servers

We've decreased the amount of time it takes to back up sites on multi-core servers. Backups are compressed using gzip to decrease the time it takes to transfer a backup to the backup storage location and reduce required storage space.

Running gzip in parallel leverages the capabilities of multi-core servers by distributing the compression tasks across multiple processors, utilizing all available CPU cores. This considerably shortens the time needed to create backups. Between this and other backup improvements, we've reduced the total queue time per day from around 500 hours to under 200 hours!
Coming
Soon

A way to manage SpinupWP resources via the command line is one of our most frequently requested features. The wait is almost over: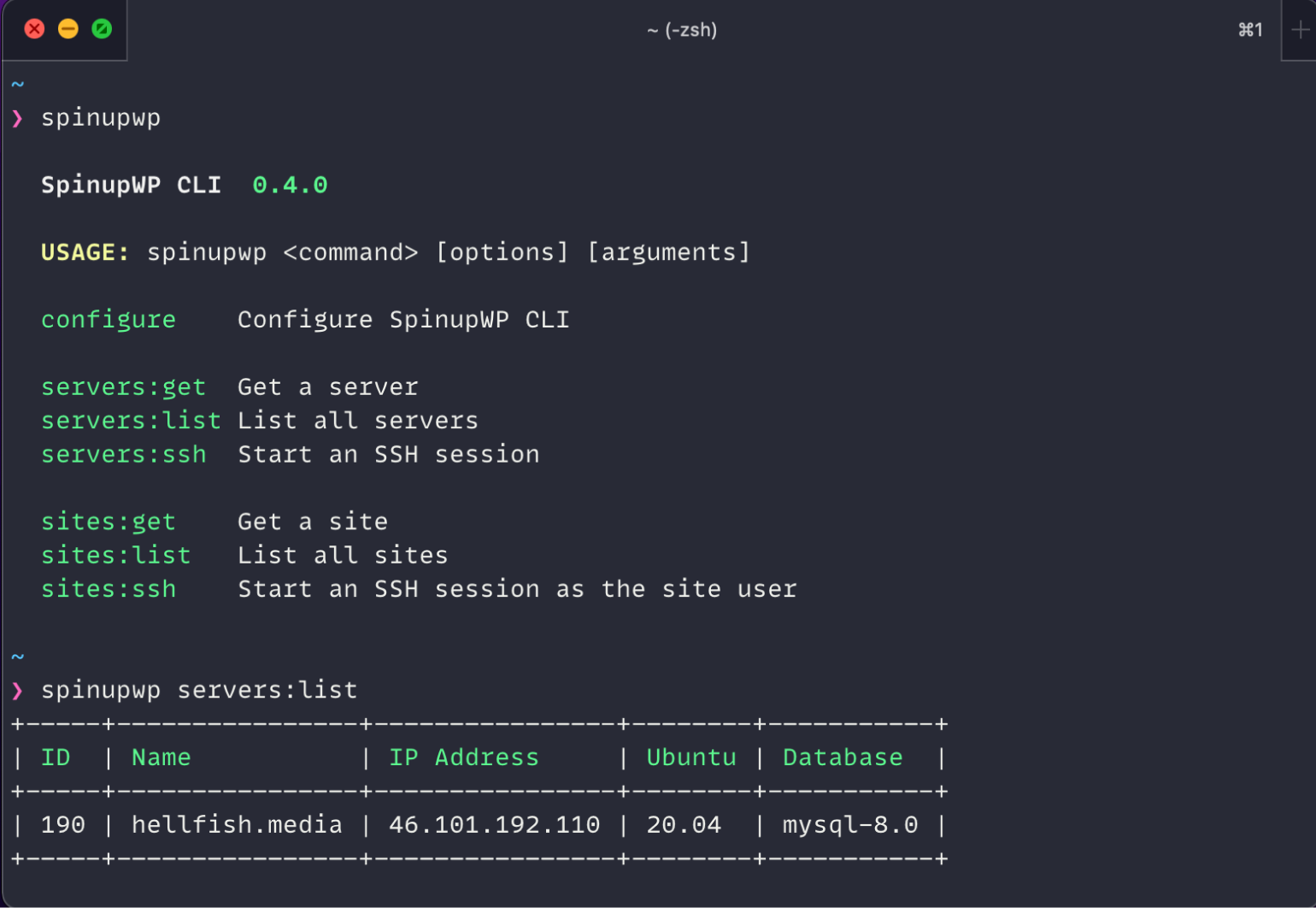 We're also hard at work on other features. See below for a few of the capabilities coming soon to SpinupWP:
Configurable scripts that run after a server is provisioned
Support for external databases
Dark mode (imminent)
What do you think of the latest updates? What would you like us to work on next? Let us know in the comments below.