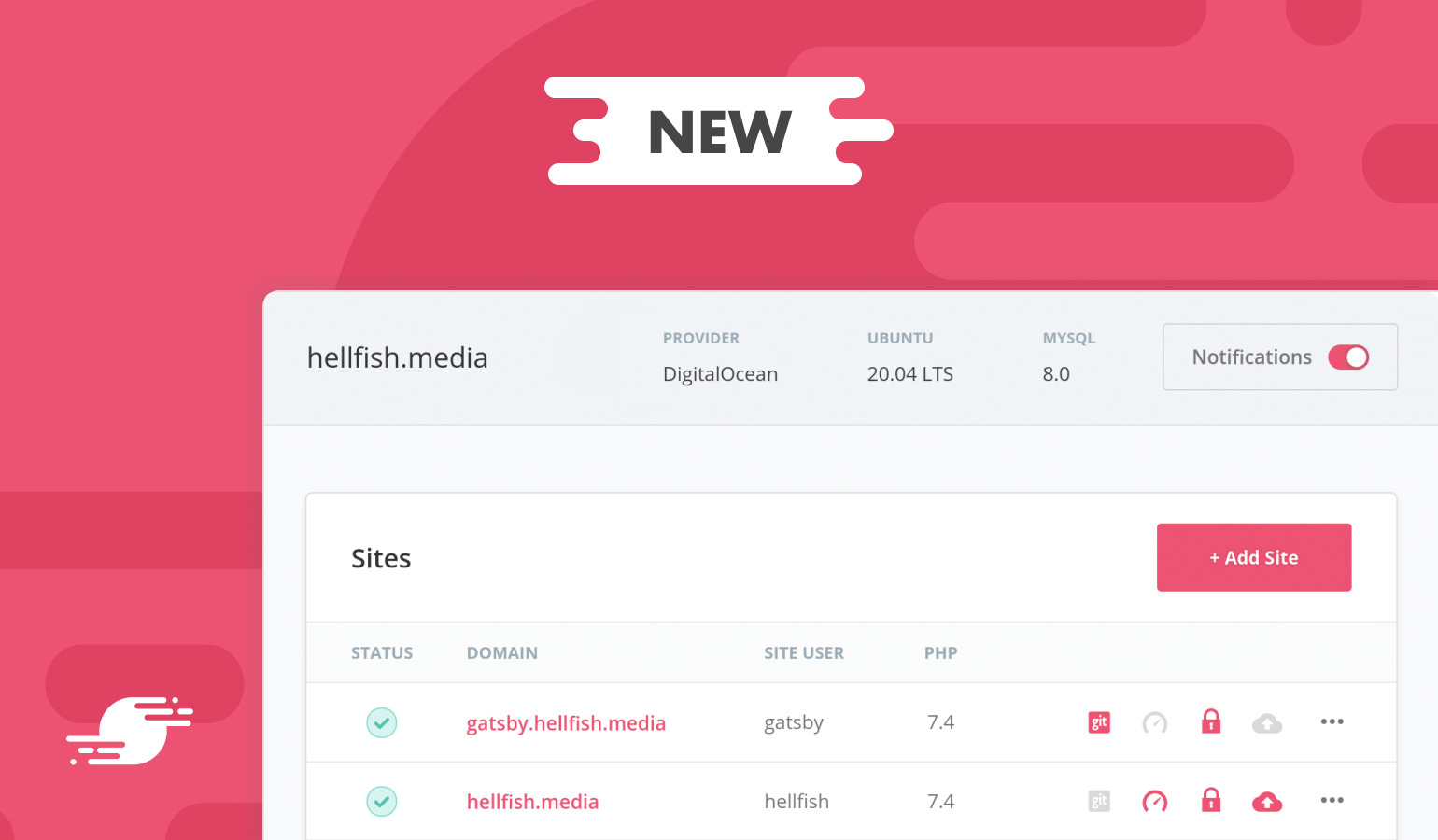 New in SpinupWP: Notification Controls, Post Deploy Scripts on All Sites, Log Viewer, Backblaze, and
More!
No matter where you are in the world, September is always a month of change. Here at SpinupWP, we've been very busy adding some great new features and a few valuable updates to the app. Let's take a look inside…
Toggle Notifications For a Specific Server or
Site

Since launching our in-app notifications in June, we've been iterating on how to give SpinupWP users more precise control over the notifications they receive. It's now possible to subscribe or unsubscribe to notifications for a specific server or site. Simply switch the Notifications toggle at the top of a server or site dashboard to set your notification preference.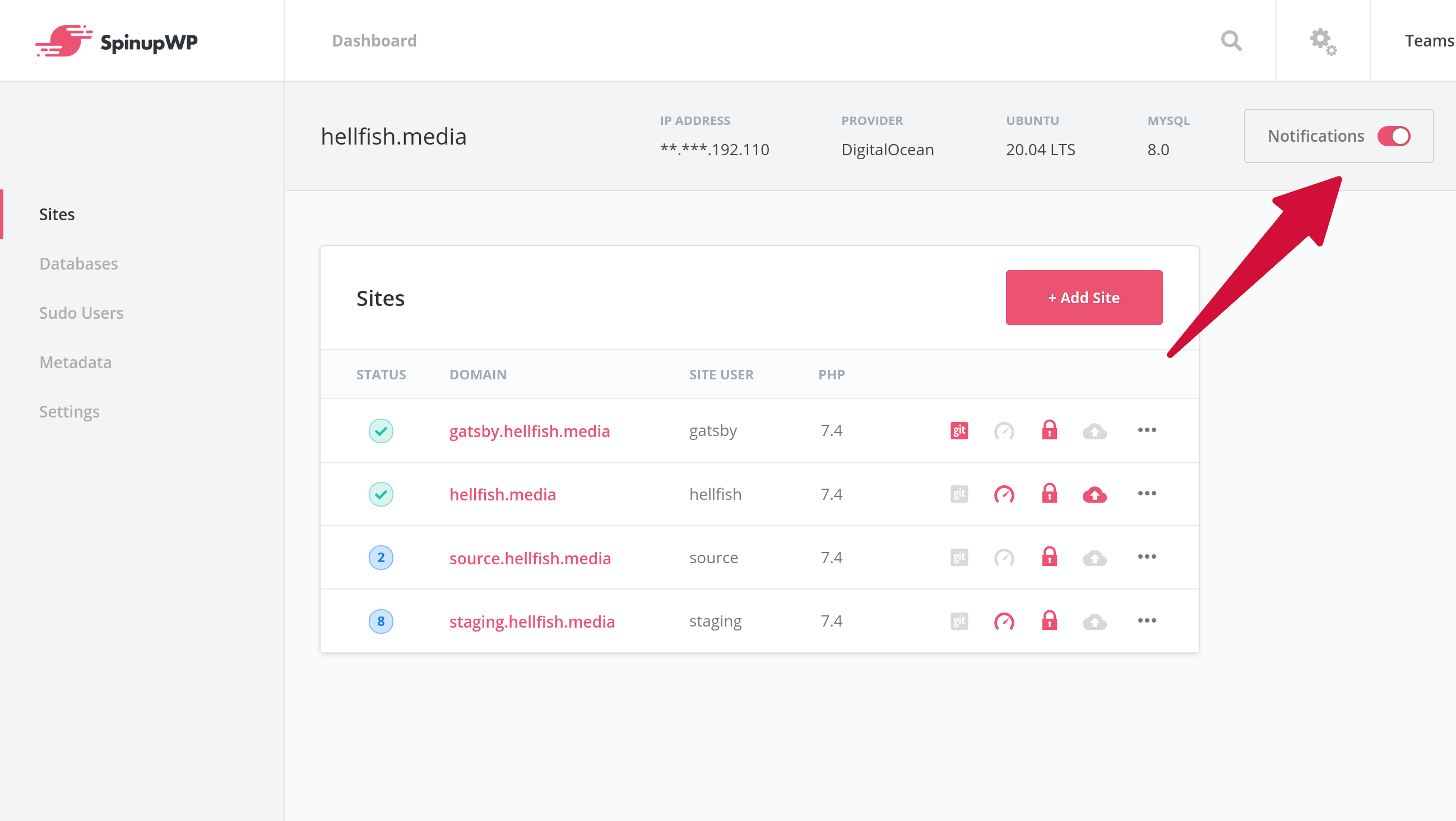 The next step in the evolution of our notification system is only to notify you when something needs your attention. For example, is it really necessary to notify you the moment a server needs a reboot? No. We should certainly show that the server needs a reboot in the dashboard right away. However, it doesn't warrant a notification until some time has passed and the server still hasn't been rebooted.
Post-Deploy Scripts on All
Sites

Wouldn't it be great if you could somehow automate the manual tasks you have to complete after you've created a new WordPress site on SpinupWP? Maybe you need to install a specific theme, disable some default plugins, or configure specific site settings. Now you can, with the availability of the Deploy Script feature on all site types.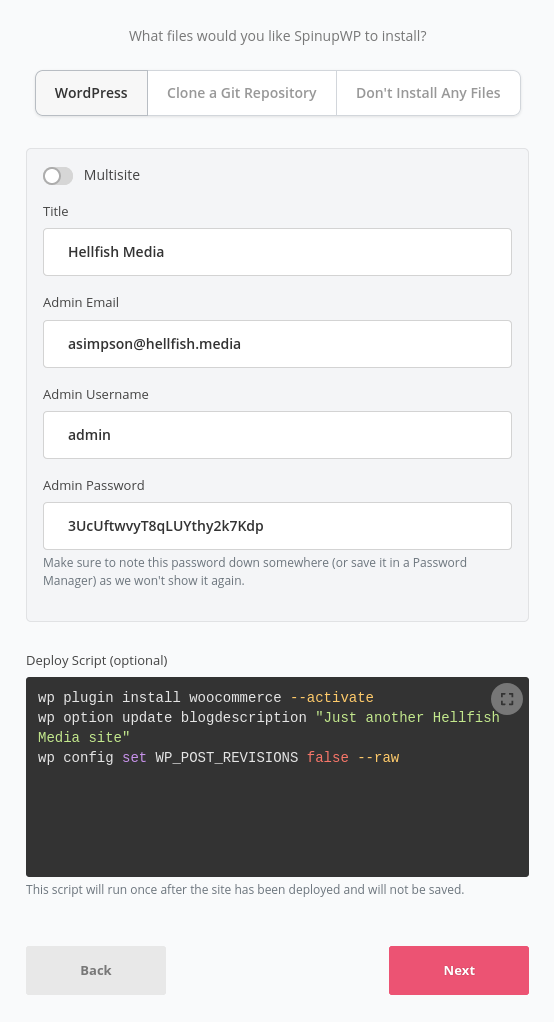 Previously only available on sites created from a cloned Git repository, the Deploy Script feature makes it possible to run any terminal commands after the new site is deployed. You can install any plugins or set WordPress-specific settings using WP-CLI and even run server-specific commands utilizing this feature.
At the moment, this is available when setting up a new site. We plan to add post-provision scripts for newly created servers and an account-wide way to create and manage scripts to run against new sites or servers in future iterations.
Inspect Your Site Logs in the SpinupWP
Dashboard

When debugging errors on WordPress sites, having quick access to your debug.log, error.log, and access.log files is vital. With the new SpinupWP site log viewer, you no longer need to SSH into your server and dig around for these files.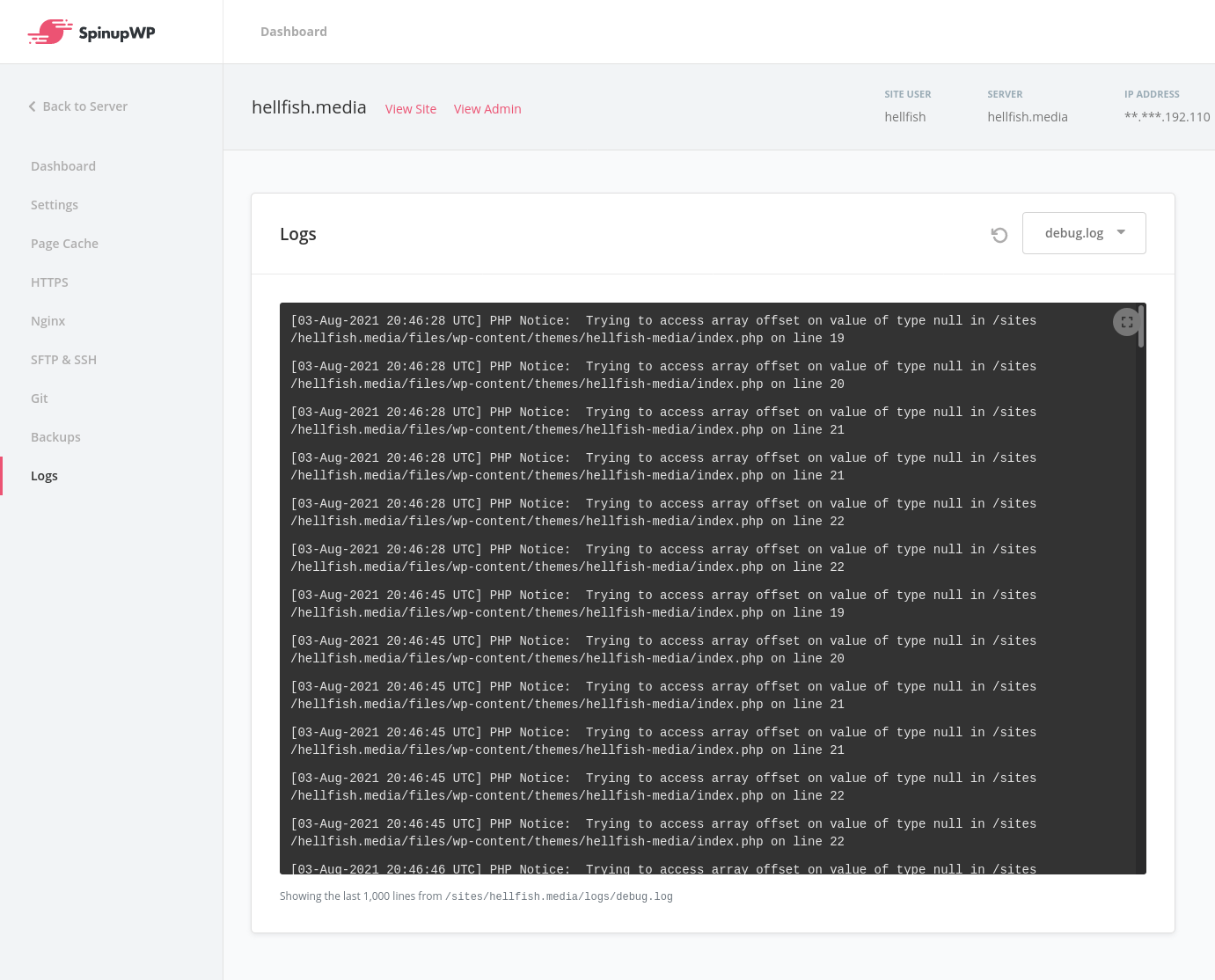 All you have to do is log into SpinupWP, go to a site's dashboard and click on the Logs menu item. Here you can select any of the three log files to view the last 1,000 lines from each file. You can also use the refresh feature to see new log entries, scroll through the log contents, or set the viewer to fullscreen for a more detailed view.
We have loads of ideas to make this tool more useful in the future, like the ability to filter the logs using the grep command syntax.
Improved All Events
View

As more and more development teams signed up for SpinupWP, it became clear that the events view screen needed some improvements. We've added a new team events view, which shows all events across an entire team. At the same time, we've improved the events view to indicate which site the event was actioned on.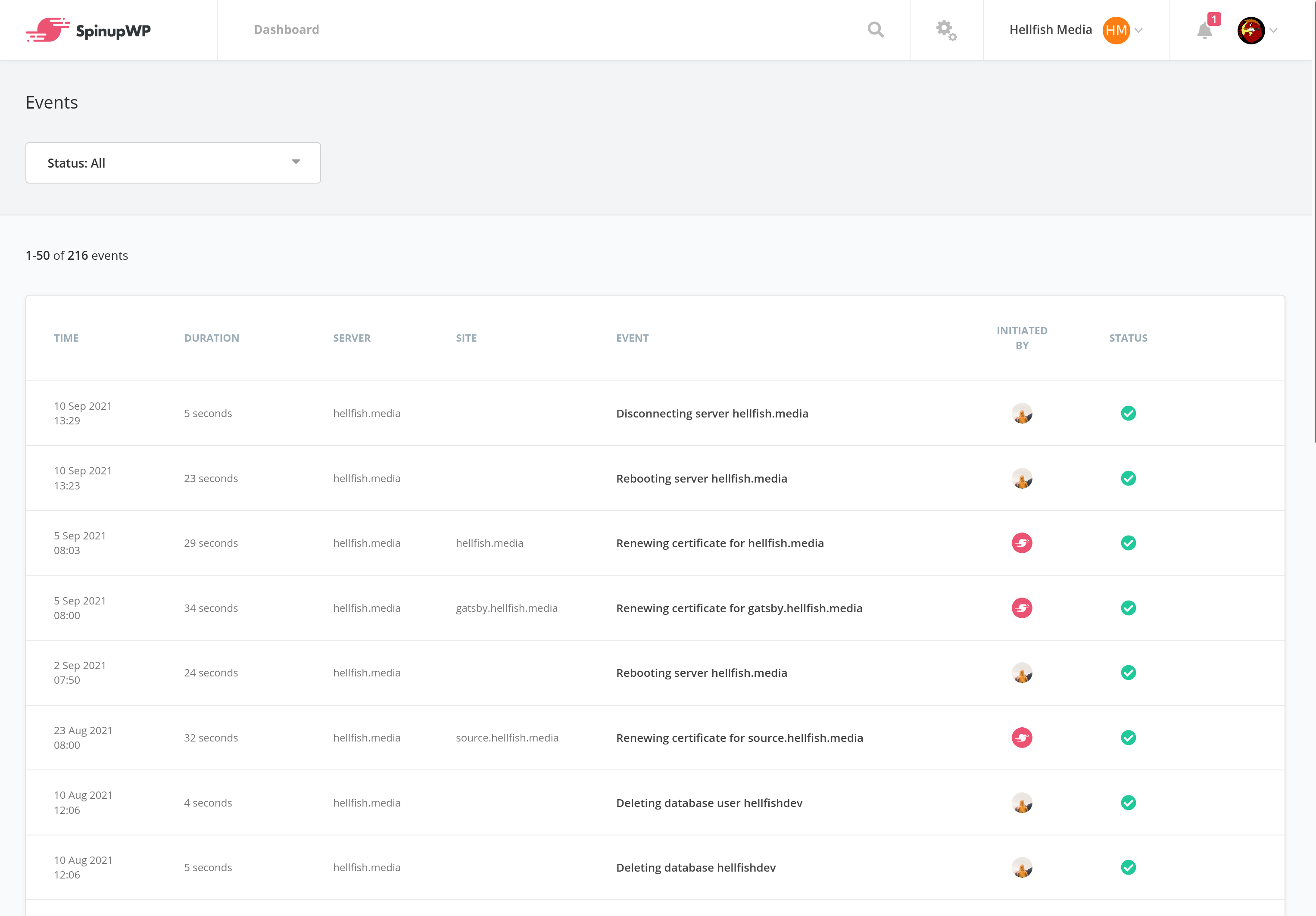 Backblaze Now Supported for
Backups

Backblaze storage is a super affordable alternative to Amazon S3. As our customers have often requested it, we've made it available as a Storage Provider for your site backups. You can learn how to set up and enable Backblaze for your site backups in our Backblaze Storage Provider doc.
Improved Page Caching of Inactive Content for
Sites

Inactive content is any content on your site that isn't accessed often (like your Terms and Conditions page). Previously, inactive content was automatically removed from the cache if it was not accessed for 60 minutes. With this update, whatever you set your site's Page Cache setting to, will also be applied to any content deemed inactive, and the cache duration will be set accordingly. Just one more way we're helping keep your WordPress sites lightning fast.
Coming
Soon

We're always working on improvements and new features, so keep an eye out for more updates coming to your SpinupWP dashboard soon, including:
REST API for managing servers and sites (imminent)
"Domains" screen for each site featuring the ability to set up advanced domain redirects
Support for DigitalOcean OAuth, making it easier to connect SpinupWP to your DigitalOcean account, as well as being more secure
Are you excited about these recent updates? Is there a feature you'd like to see added to SpinupWP? Let us know in the comments below.