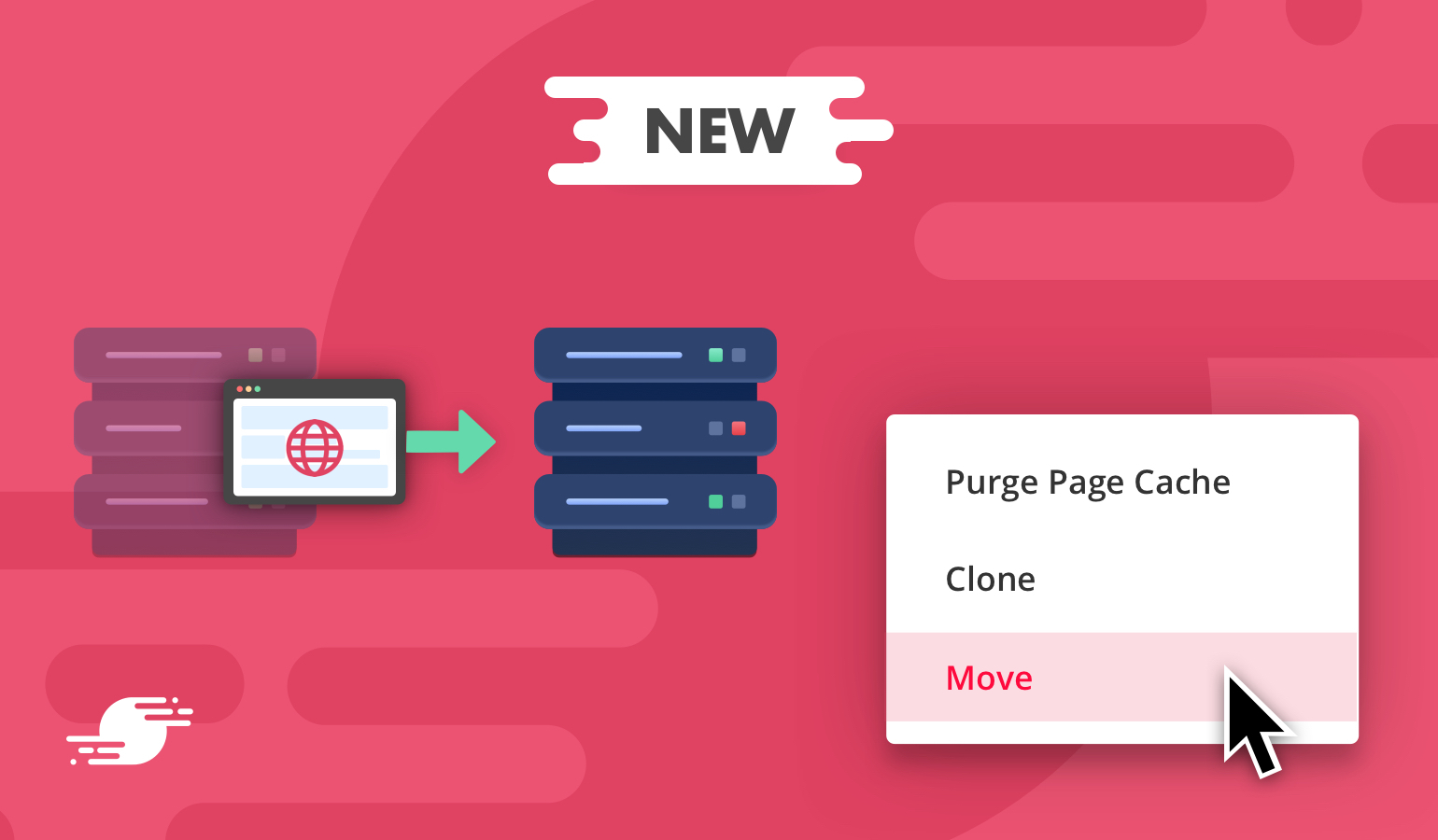 New in SpinupWP: Move a site to another SpinupWP server in a
click
We're very excited to have shipped the ability to easily move a site from one SpinupWP server to another. In the dashboard, you'll now notice a Move option in the actions menu…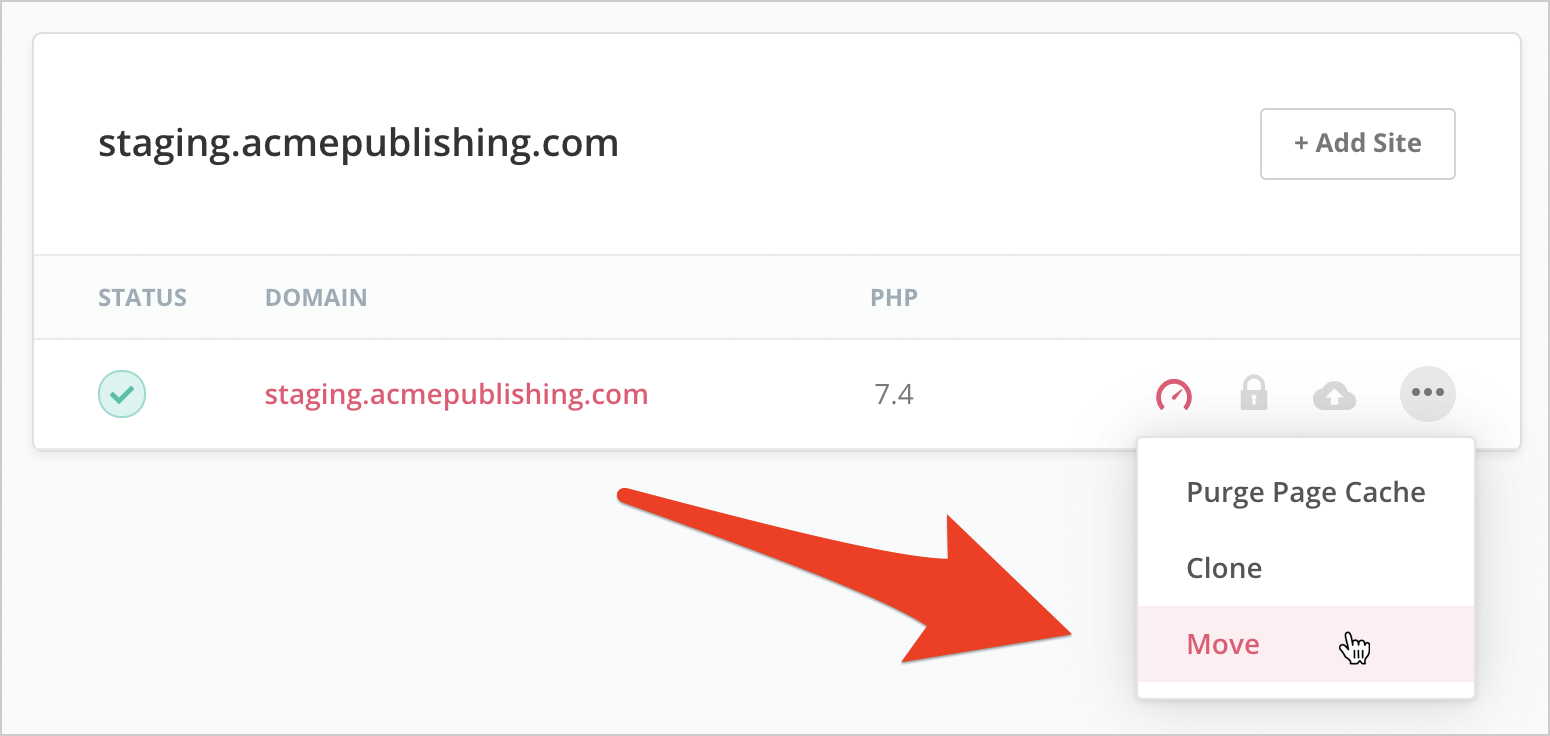 And when you visit a site's settings, you'll see a Move Site option in the actions menu there…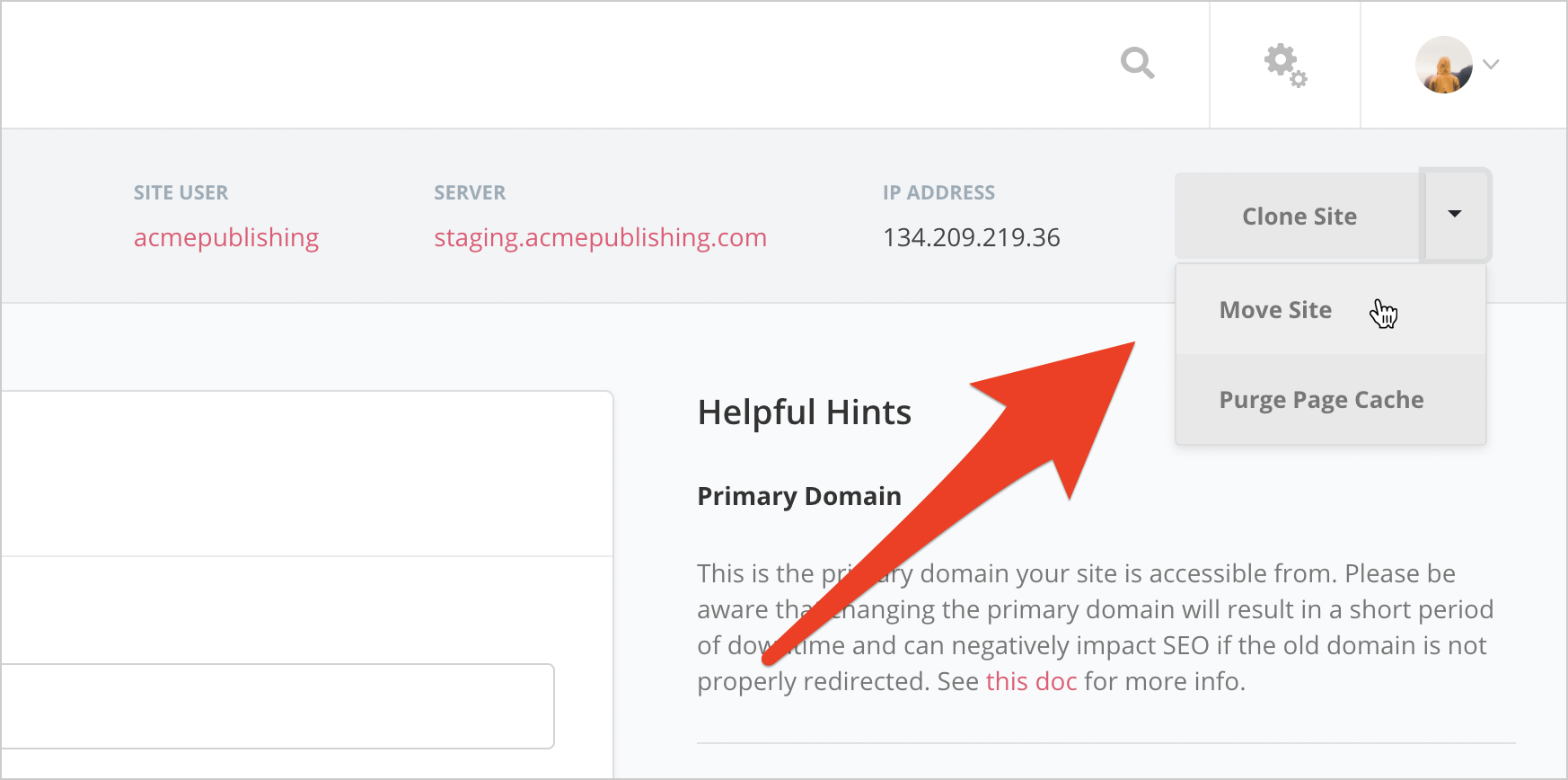 Clicking that option will prompt you for which server you'd like to move the site to…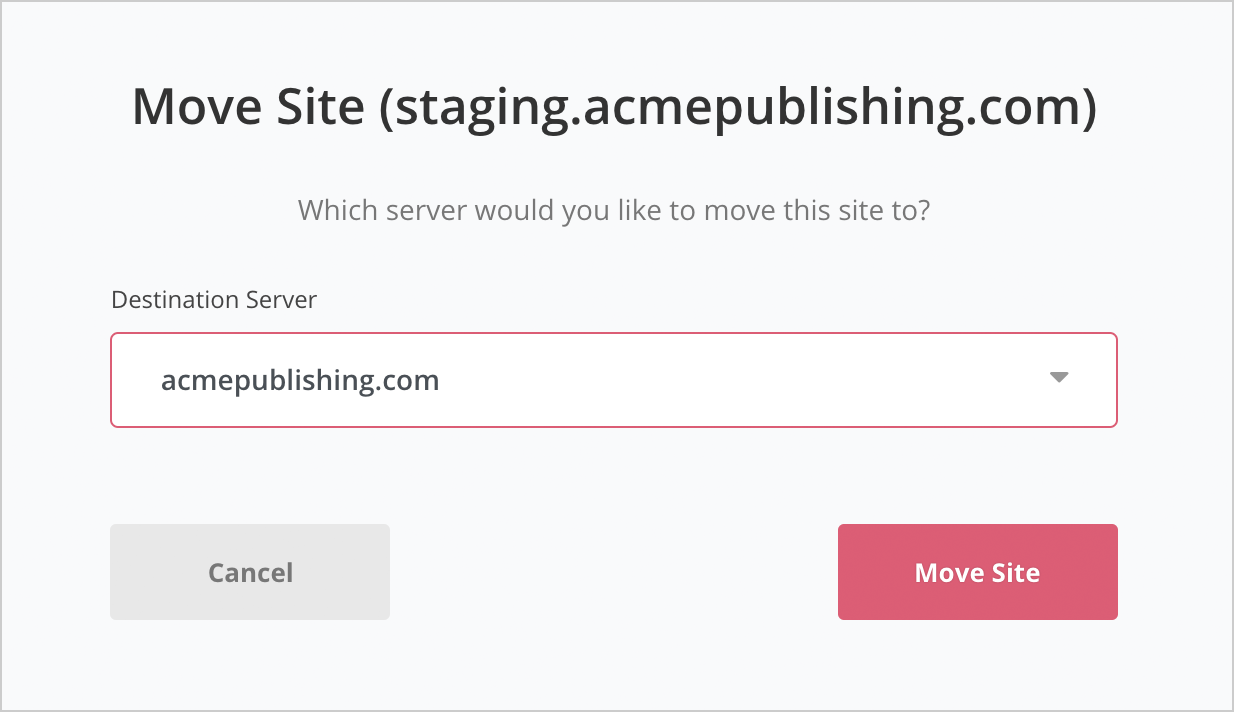 Clicking the Move Site button will then kick off a process to create an exact duplicate of the site on the destination server complete with SSL certificates, Nginx configs, git repo, sites files, database, etc. (For a full list of what is copied and the operations performed, see the doc.)
You can then test your site on the new server and if all is well, update your DNS to point your domain(s) to the new server. Of course you should probably be a little more careful than that. The doc contains a complete process for moving a site safely using the Move Site tool.
How is this different from the Clone Site
feature?

The Clone Site feature is designed for creating duplicates of a site for development, testing, and staging purposes. As such, it prompts you to enter new domains, it prompts you to verify DNS in order to generate a new SSL certificate, it prompts you for new database info, and it prompts you for the site user, PHP version, and page caching. Also, backup settings are not copied to the clone site.

When moving a site, we know the answer to all those prompts and we want our backup settings copied over too. Everything should be exactly the same as the source site.

The Move Site tool skips all those prompts, it copies your existing SSL certificates to the new server, it copies the site's backup settings, and it uses the existing git authentication if you've already set up git on the new server.
Time to Upgrade to Ubuntu 20.04
LTS

You may recall that I mentioned the Move Site feature a couple of months ago when we announced support for Ubuntu 20.04 LTS. I recommended holding off on spinning up a fresh Ubuntu 20.04 LTS server and moving sites over to it using the Clone feature because it will be a lot easier with the Move feature. Well, the eagle has landed and you can now easily move sites between servers.

As a reminder, there's still no rush here. Ubuntu 18.04 LTS will continue to receive security updates until April 2023, so it's completely fine to continue running it for now.
Git Branches with Forward Slashes Now
Work

Something else we fixed recently is a bug that didn't allow you to verify a git site if the branch name had a forward slash. I'm happy to report that forward slashes in branch names now work just fine.
Keyboard
Shortcuts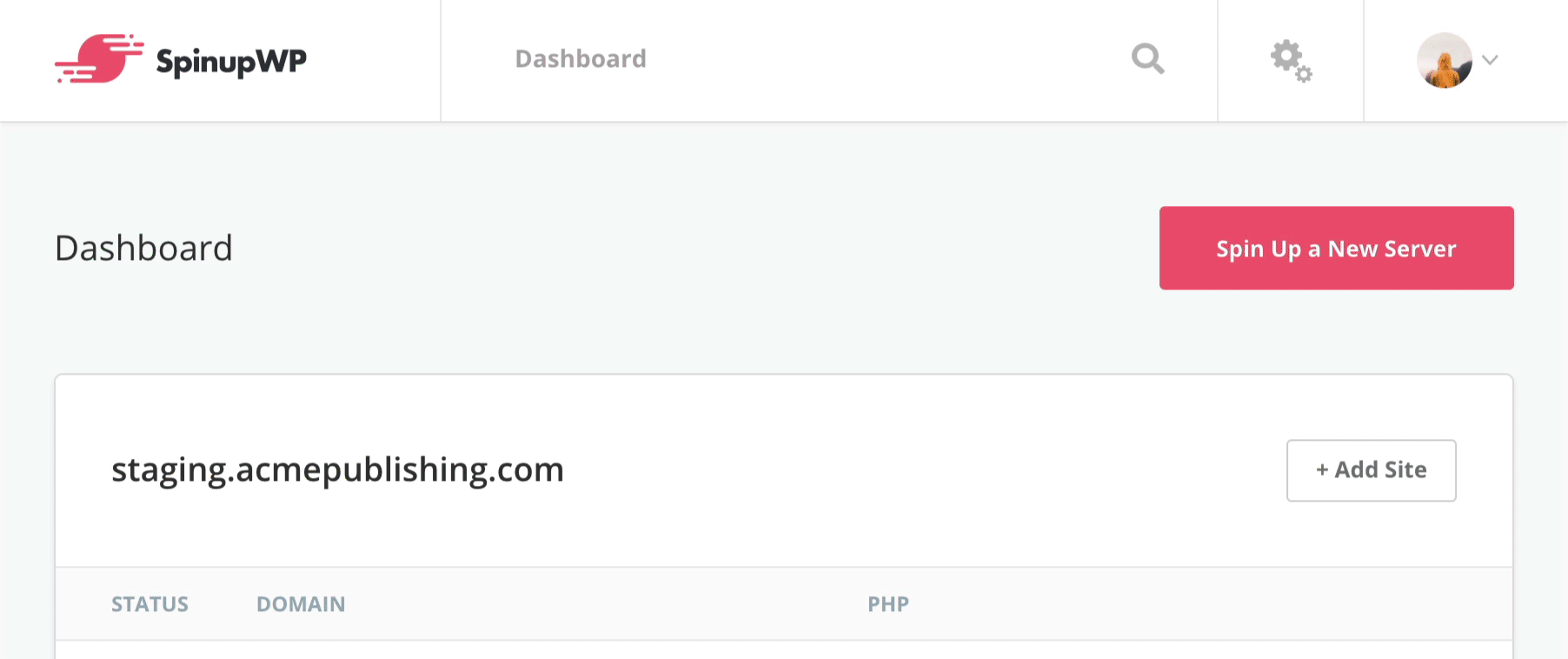 You can now press the forward slash keyboard shortcut when viewing any SpinupWP page and it will engage the search bar at the top of the screen. As you start typing, servers and sites will begin to appear. Once you see what you're looking for, use the arrow keys to select the item, and hit return/enter to go to that page.
Welcome Brandon
🎉

I'm really excited to announce that Brandon McQueen, a talented Laravel and Vue.js developer from Charlotte, North Carolina has joined our team. He's been helping Gilbert and Ash push SpinupWP forward for the past few weeks, whipping through loads of bugs and UX/UI fixes. In fact, you can thank him for the keyboard shortcuts above. If he replies to your support request, please join us in welcoming him to SpinupWP. 🙂
What's
Next?

Soon you're going to see a count of the number of theme, plugin, and WordPress core updates that are available for each of your sites in your SpinupWP dashboard and you will be able run the updates from there.

Our git deployment system needs an overhaul badly. It was designed prior to adding security isolation between sites and is more complex and error-prone than need be. It's also ridiculous that if you create a site without git, you can't configure git later. We've designed a new git deployment system that you're going to love.

If you have a team account with a few different servers, you probably know our notifications are a bit of a mess. I receive nearly a dozen reboot notification emails for all our servers when a security update requires a server reboot. Most of these servers aren't my responsibility but there's currently no way to unsubscribe from notifications for an individual server or site. There will be soon.

Have any questions about the Move Site feature or anything else above? Let us know in the comments below.