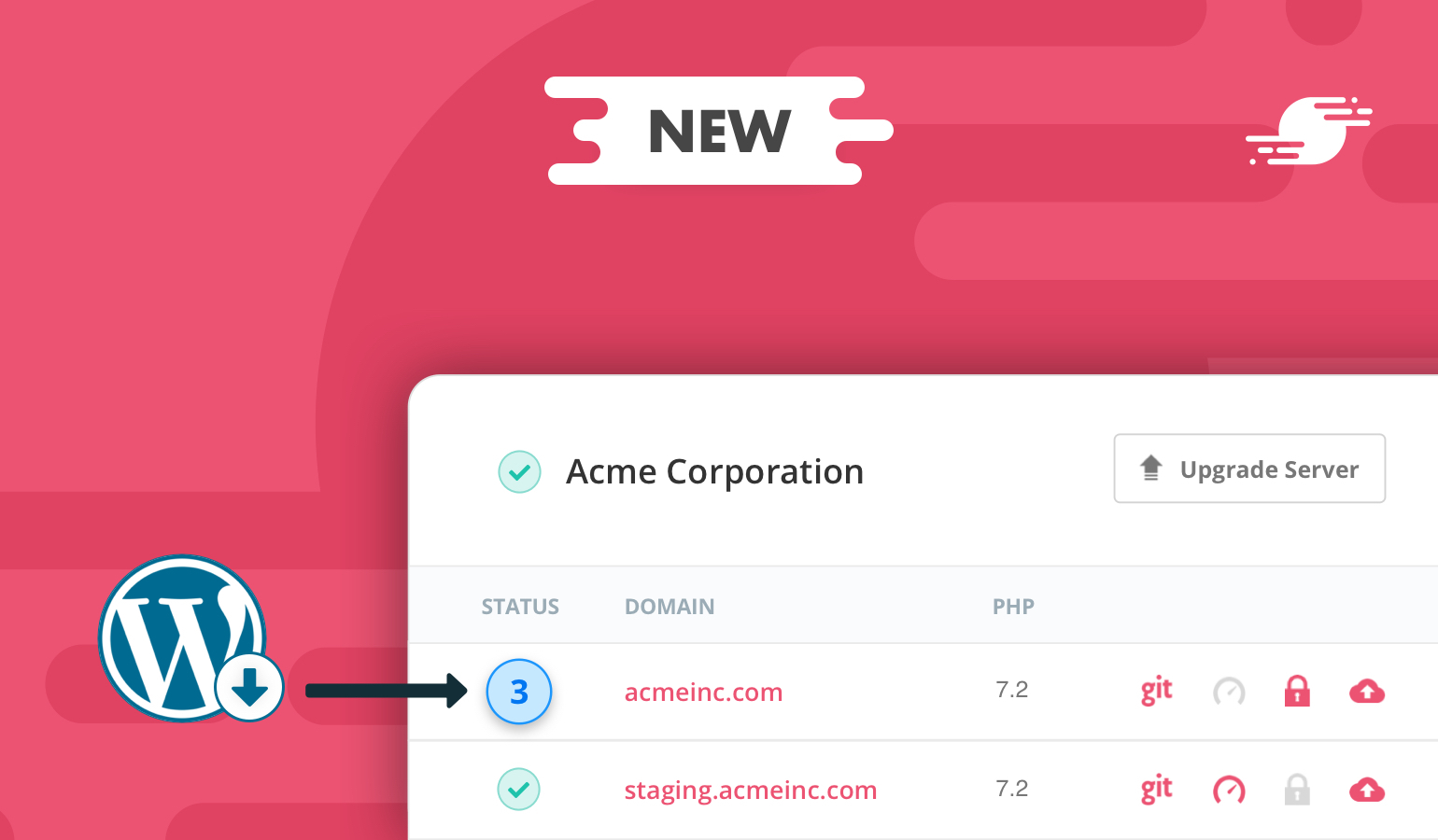 New in SpinupWP: Update WordPress, Plugins, and Themes from the SpinupWP
Dashboard
We've been busy over the past month working on some great new features and improvements that have been a long time coming.
SpinupWP now automatically checks for WordPress core, plugin and theme updates for you once a day! You can also run these updates right from SpinupWP's dashboard. If you have updates available, you'll now see an icon on your dashboard that represents the number of pending updates.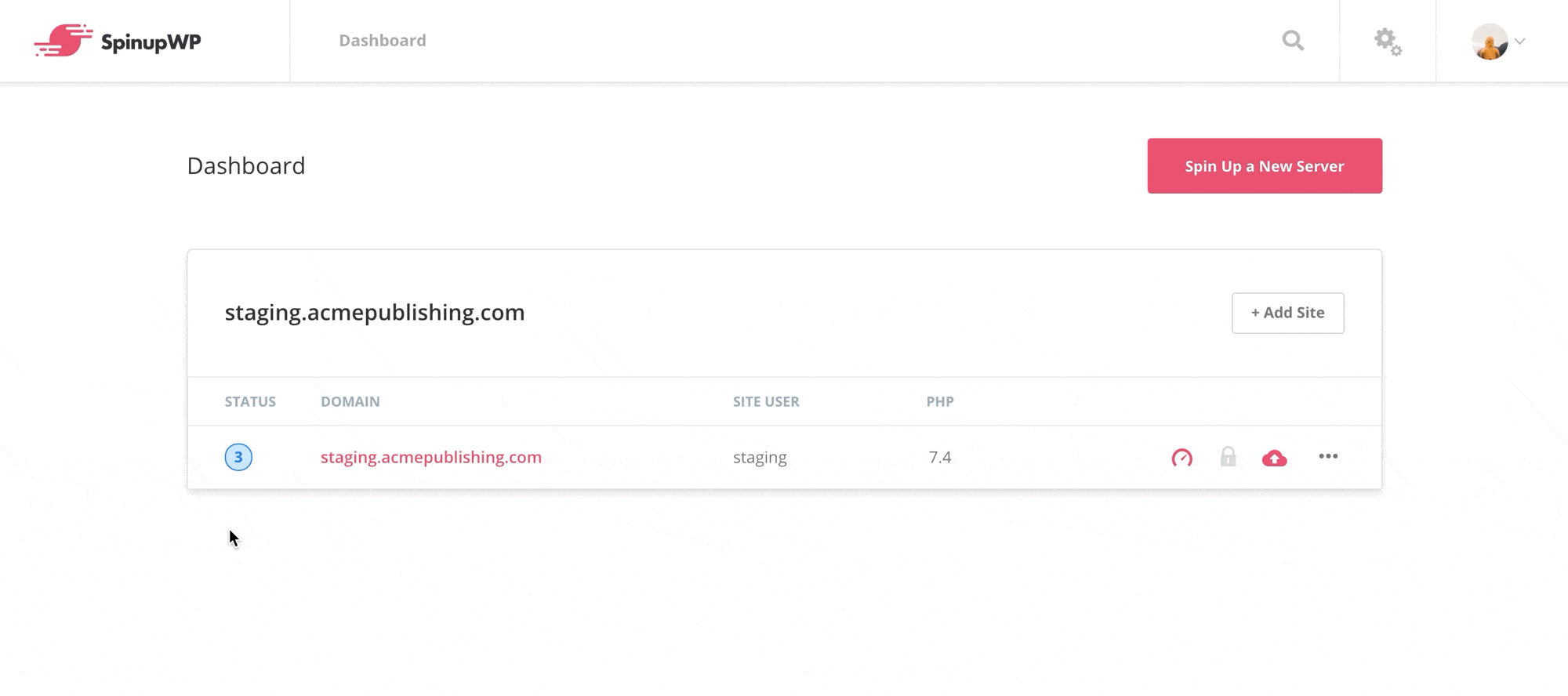 Clicking on this icon will bring up our new WordPress update modal. If your site has git enabled, you'll be presented with a warning about making WordPress updates outside of your git repo.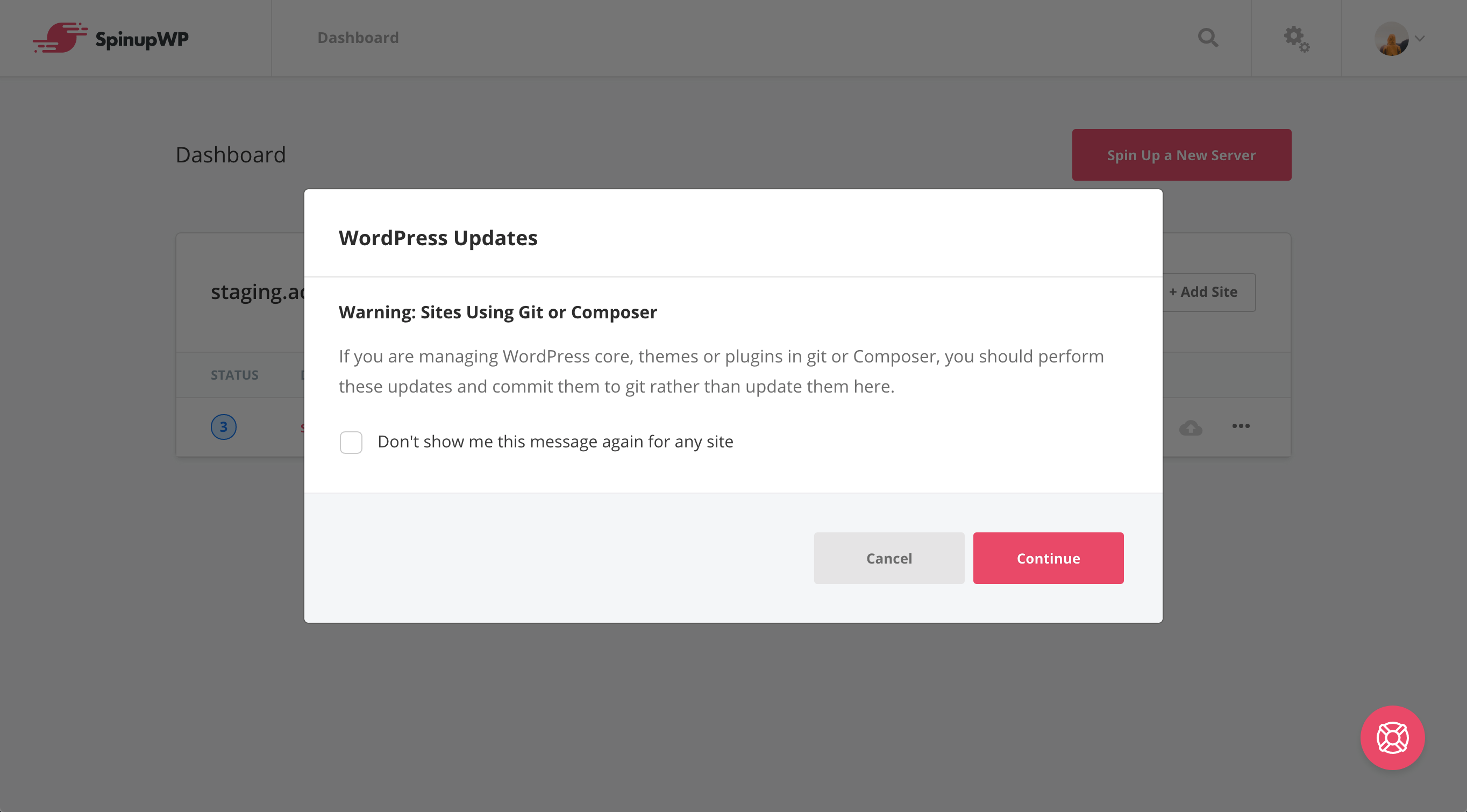 If you don't have git enabled or you choose to proceed with updating anyway, you'll then see the WordPress update options.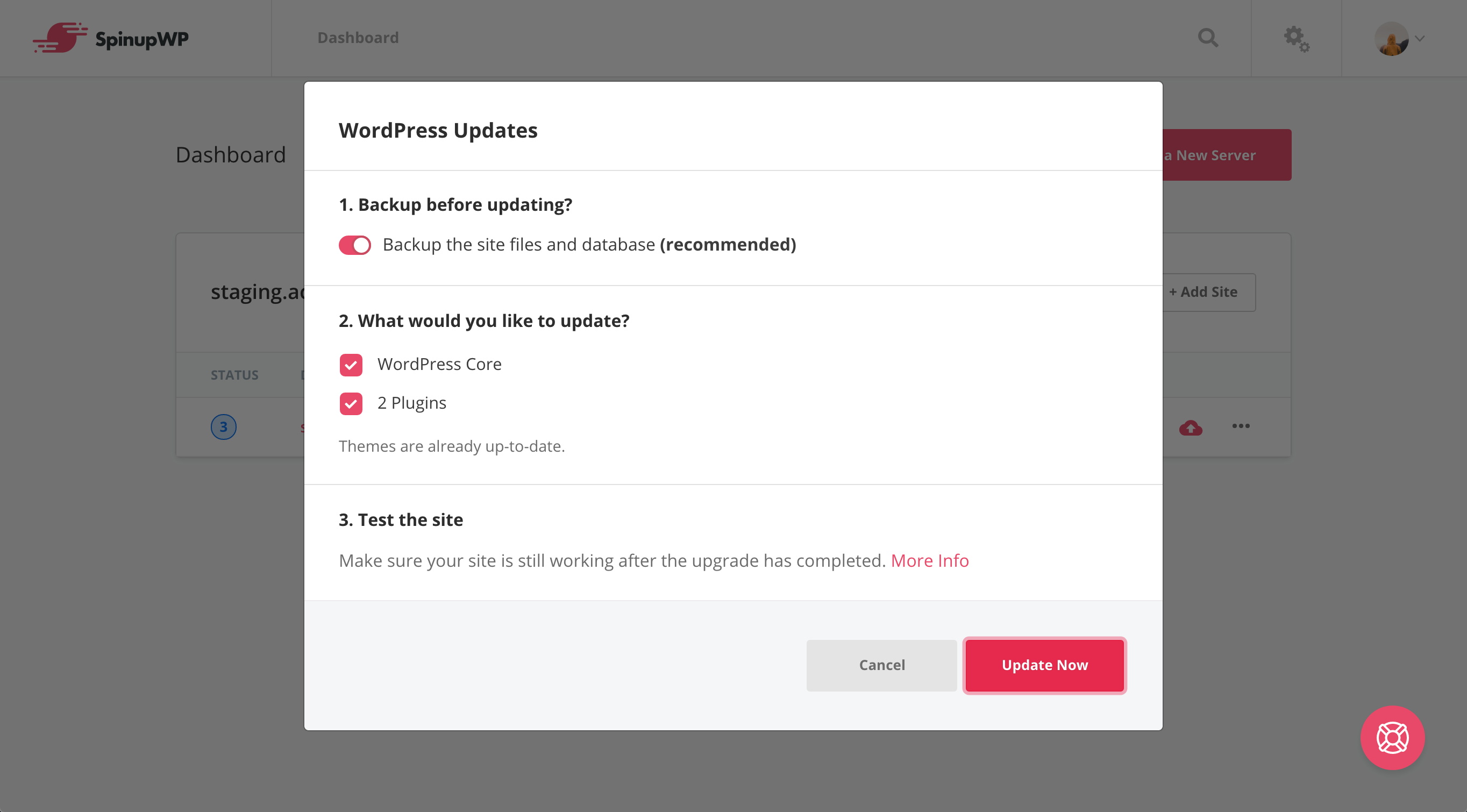 If you've already set up backups for your site, you'll have the option to make a backup before running any WordPress updates.
Simply select the backup option along with the WordPress items you wish to update and submit. SpinupWP will handle the backup and update WordPress for you in the background. You can monitor the status of this process via the events dropdown.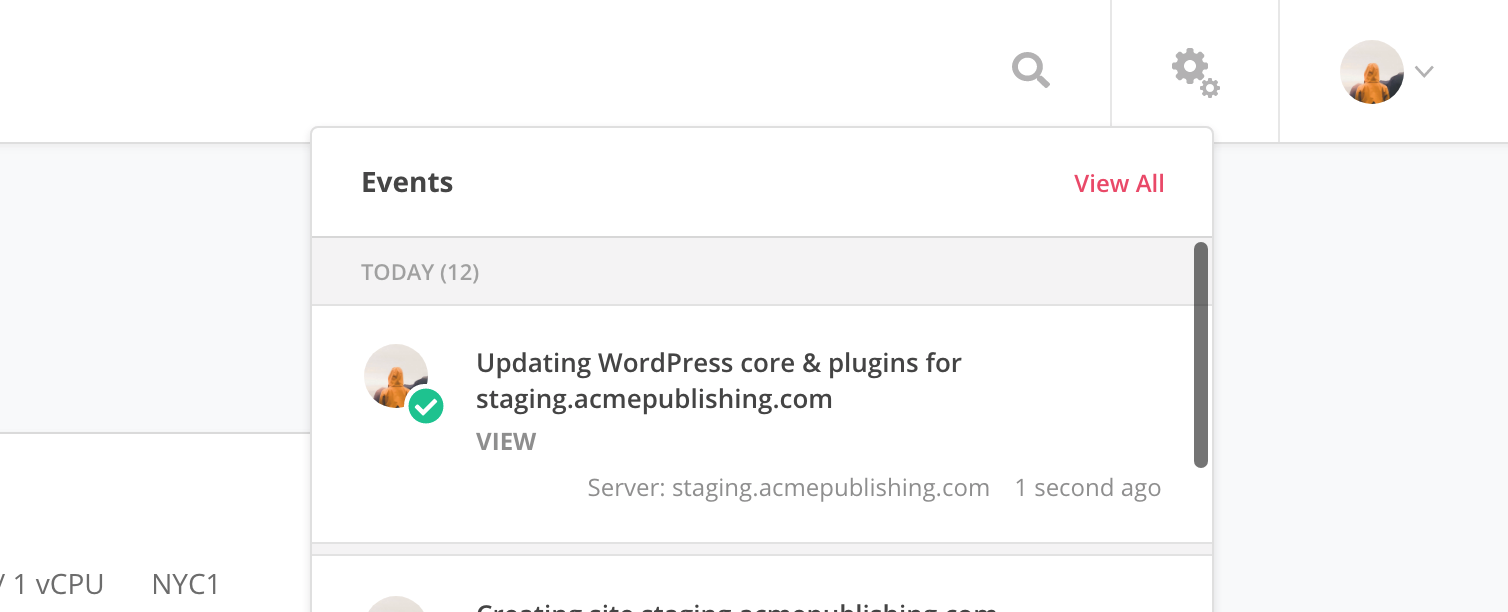 Selecting "View" on a completed WordPress update task will show the detailed output of the process. This is useful for viewing what plugins and themes were updated.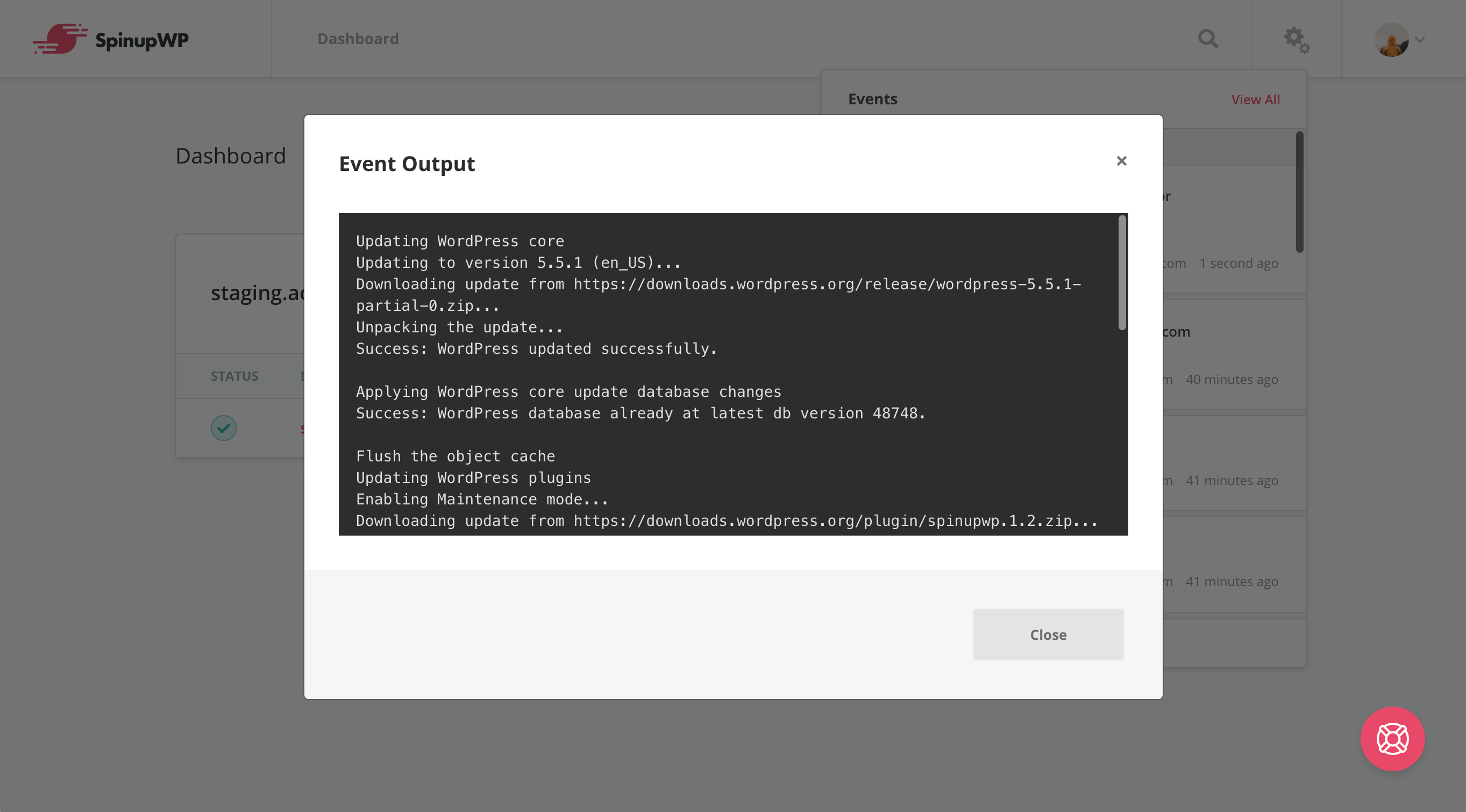 Don't forget to test once the backup and updates have completed. If interested, you can learn more about updating WordPress in SpinupWP.
Notification Updates &
More

In addition to the WordPress updates, we've completely revamped our notification system. Unfortunately, the first stage of this was all work "under the hood", so you won't notice any changes just yet. However, we're pretty excited to have it completed as this paves the way for in-app notifications and notification settings, allowing you to decide what you want notifications about, what you'd prefer to ignore, and how you'd like to receive notifications (in-app or email). We use SpinupWP for our own servers so we know the number of email notifications it sends can be ridiculous at times. We don't have an ETA on this just yet, but it's on the horizon and the changes made recently were the largest portion of the work involved.

We're very close to shipping a batch of work that improves our Git integration. Currently you can't enable Git on a site if you didn't enable it when you created the site. That will be a limitation of the past very soon. We'll send you another email early next week with the details.

As always, if you have any questions about any of the above, please don't hesitate to ask in the comments below.